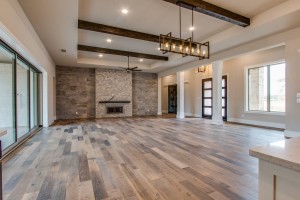 January is quickly moving toward February, and before you know it, the summer season will be here. Texas is known for hot, humid summers but when you own a Flower Mound custom home that's energy efficient and incorporates "green" building technologies, you can rest assured your family will stay comfortable, while conserving energy and reducing utility costs! We believe in beautifully designed, distinctive homes that are good for your family, as well as the environment.
Our North Texas custom home builders use the newest, most innovative technology and construction materials in every home we build, incorporating green building techniques that not only reduce water and energy consumption, but improve indoor air quality as well, without ever sacrificing comfort.
Here are a few examples of the energy-efficient products we use in building our custom green homes in the DFW area:
Blown-in fiberglass insulation, a type of insulation that's superior to batting, as it can be blown into even the smallest areas around windows, doors, or tiny crevices. It also prevents rot and mold from infiltrating your home, as it's resistant to moisture.
Low E emissions windows. Our vinyl framed double-pane LoE-366 windows keep your home cooler in summer months and warmer during the winter season, as this type of window minimizes the transmission of heat and cold through glass.
Radiant barrier roof decking saves on energy bills, as it minimizes the transfer of hot or cold air into your living spaces, due to the fact that it reduces absorption of heat through your home's attic.
Rmax continuous insulated sheathing reduces air infiltration, lowers energy usage, and helps achieve lower HERS (Home Energy Rating System) energy ratings.
In building our custom homes, we also use Energy Star certified appliances; the highest efficiency HVAC systems; "smart," or Wi-Fi ready programmable thermostats, that help manage and automate heating and cooling, whether you're home or away, for the ultimate in comfort and money-savings; and more. Fresh air supply through mechanical ventilation is another feature important to your family's health, and full foam encapsulation is optional.
At Bud Bartley Family of Builders, we go the distance to ensure all of our custom built homes are not only the best choice for your family's health, the environment, and money savings, but of the highest quality in terms of materials and workmanship. Considering it's your biggest investment, why leave anything to chance? Trust our family of builders to deliver results beyond your expectations.