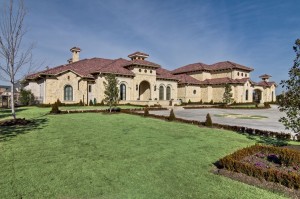 When you're considering a new home in the Dallas area, you may automatically think "more expensive" when it comes to a custom home vs. a production home. Actually, this is not the case. If you're torn between the two, we'll clear up some of the facts to help make your decision easier.
Because the design of production builds is repeated and floor plans are pre-set, modifications or customizing your home can become extremely expensive depending on the scope of the project. Most production builders offer a handful of changes that can be made, but anything outside of those changes and you'll pay more. It's important to carefully consider whether a production build will meet your family's needs and satisfy your design preferences as-is for the most part.
You have more flexibility with a custom built home. Regardless of whether you're looking at a new home in North Texas or any other state or region, building a custom home is entirely different. Essentially, you choose the floor plan that best fits your needs, personalizing your living spaces where it's necessary. Unlike with a production build where you may have three options to choose from, you can make more dramatic changes such as removing a home office, adding a bedroom, or even moving a wall.
Custom home builders expect you to make changes and modifications that meet the needs of your lifestyle – after all, that's what customization is! While you may face some additional expenses because of material or labor costs, you don't get charged extra by the builder simply for requesting a change.
It's important for those who are considering a new home in the Flower Mound area to understand the differences, and that a custom built home doesn't necessarily cost a lot more than a production home. While you're naturally concerned about base costs, also keep in mind the needs of your family, and what will make it a home you'll find comfortable and convenient. With a custom build, you're in control of even the smallest details! To learn more, contact our trusted team of builders at Bud Bartley Family of Builders. We build the good life!