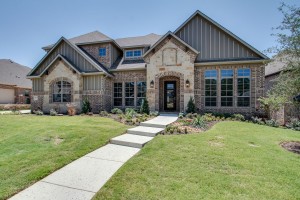 When building a home in Flower Mound or other upscale communities in North Texas, many homeowners today desire green features that make their home more energy efficient and environmentally friendly. One aspect of building a custom green home is radiant barrier roof decking or "sheathing," something you may not be familiar with. What is it, and what are the benefits?
Essentially a radiant barrier helps to block radiant heat transfer from your roof to the interior of your home, essential for those living in a southern climate such as Texas where temperatures get downright hot during summer months. The attic and roof are the hottest areas in a home due to the fact that many homes have dark-colored shingles, and also the bearing down of the sun on the top of your home. Dark colors absorb heat, a good thing during winter months – but not so much during hot, humid summer months. Radiant barrier roof decking is simply a thin layer of aluminum that, when installed, helps avoid the transfer of radiant heat from your roof to the interior of your home.
What are the benefits of radiant barrier roof decking for Dallas-area homeowners?
Obviously your home will be more comfortable, but there are numerous other benefits. These include:
Limiting carbon emissions. Because cooling your home requires less energy, carbon emissions are reduced which means a greener home with a lower negative affect on the environment. You reduce your carbon footprint by having a "green" home.
Lowering energy costs. Of course your air conditioner will still cycle on and off during the hot summer months; however, it won't run as often or for as long when it does run, because a buildup of heat in the attic is substantially reduced with radiant barrier roofing. You consume less energy while lowering electric bills.
Making unconditioned spaces more comfortable. These spaces include areas such as your garage, attic, even a porch, patio, or sunroom that's covered. Even though they may not be air conditioned, these areas will be far more comfortable rather than stifling hot, increasing your enjoyment of your home.
Your roof is the component of your home that provides protection and helps keep out the weather, so why not include radiant barrier roof decking for increased savings and comfort, and a greener home?
At Bud Bartley Family of Builders, our Flower Mound custom home builders are dedicated to quality, beauty, and reducing negative environmental impacts. Contact us today to learn more about our green building process!