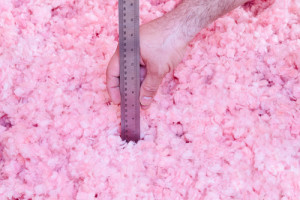 First of all, what is fiberglass insulation? If you've ever seen the pink rolls that appear similar to tightly packed cotton candy, that's fiberglass. While the batting (rolled) type has been around for what seems like forever, today it's possible to blow fiberglass into even the tiniest spaces using equipment designed for the job. If you're having a custom home built in Flower Mound or anywhere in North Texas and are concerned about your green efforts and protecting the environment, you'll want to know more about blown fiberglass insulation.
Why is this type of insulation considered a 'greener' alternative to batting?
First of all, because it can be blown into even the tiniest corners there are no gaps as is often the case with traditional insulation. This means your home stays comfortable, while energy consumption is reduced as well as utility costs.
Another reason many homeowners choose blown in fiberglass to insulate their custom homes is that it's a long-lasting solution with no concerns about off-gassing or hazardous fumes. Unlike cellulose, that's basically made of newspaper, fiberglass insulation won't ignite in case of a fire.
The fiberglass industry uses about 35% recycled material, another reason it's a greener solution than traditional insulation.
Regardless of whether you choose blown in fiberglass when building your home, air sealing is an important step that should be done prior to insulating – to seal air leaks and ensure your home is as energy-efficient as possible. Any cracks or gaps in the attic should be sealed. The same applies to any other areas where energy loss is more common.
Blown fiberglass insulation provides little to no settling, and is moisture resistant, helping prevent the infiltration of odor while dramatically reducing the likelihood of mold or rot.
Blown in fiberglass insulation is just one of the energy saving features we include in the quality homes we build. At Bud Bartley Family of Builders, our North Texas custom home builders are committed to comfort, value, and savings in beautifully designed homes with a focus on reducing harm to the environment. Contact us today!