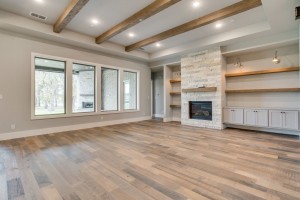 Features and design trends that people are looking for in a new custom home change from time to time. Today, homeowners desire a spacious look that's accomplished through higher ceilings, fewer walls, and open floor plans, among other features. As custom home builders, we listen to what our clients want, and build beautiful, quality homes that go beyond your expectations. So, what is it clients request in new custom homes most often?
Living rooms that span great heights. If a two-story home is your dream, you may want to consider high ceilings in certain areas so these spaces span both floors. Rooms with this type of ceiling look huge, spacious, and open – and are definitely impressive!
Arched doorways. Which do you think would be more appealing: a regular rectangular doorway or one that's arched? Arched doorways offer a unique, grand appearance that simply can't be matched with the traditional doorways we've known for decades. The architectural element can transform the feel and look of your custom home – and it's simply gorgeous.
Spectacular open stairway landings. Would you rather look at a wall, or enjoy a panoramic view of the level below from the stairway landing? Your stairway could open up a view of the dining room, living room, or even a hallway. Any way you go about it, the look is spacious and open, rather than closed off and stuffy.
Luxurious master baths that double as retreats. Dual-headed showers large enough for two, soaker tubs for indulging your senses and relaxing, gorgeous lighting…it's all about luxury and escaping the stresses of the day. Today's master bathrooms truly are retreats; a place to pamper yourself and get away from the routine of everyday life for rejuvenation.
Built-ins and nooks for your family's lifestyle. Whether you enjoy reading on a rainy day tucked away by a window or collecting recipe books, there's a special nook or cranny for everything! Built-in shelves and window seats are hot – one trend we think will stick around for years to come.
At Bud Bartley Family of Builders, our goal is to provide homeowners with custom Flower Mound Homes that are as functional as they are magnificent. Wide open spaces, high ceilings, unique built-ins that lend to your lifestyle – whatever it is, count on our team of builders to go beyond your expectations of what a dream home should be.