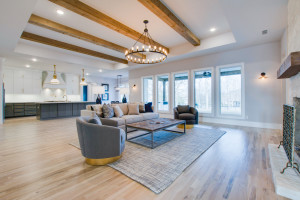 Custom built homes with open floor plans are all the rage today, and have been popular for some time now. Homeowners are tired of feeling "boxed in" by walls, and an open plan gives the appearance of a much larger space. The question is, how does it affect energy efficiency? Our Flower Mound custom home builders have good news to share below.
Fewer walls result in abundant sunshine coming through windows, warming your home during winter months. Sunshine can increase how warm you feel much more than your realize, so you can turn the thermostat down a couple of degrees during winter months while staying comfortable. Without smaller, boxed-in rooms the sunshine also increases light in your home, so you don't have to rely on lamps or other lights to brighten the room.
Improved air circulation. An open floor plan allows for better circulation of air, whether from your air conditioning system, fans, or open windows. You can easily imagine how a living or family room that's open to the kitchen/dining area improves airflow, which enhances ventilation and energy efficiency. The more walls in a home, the more airflow is impeded.
While it doesn't really impact energy efficiency, homes with open floor plans are easier to clean. Moving from room to room, unplugging the vacuum so you can plug it into an outlet in another room, dusting or mopping a floor that flows from one room into another – it's just easier and less of a hassle.
Perhaps more important than energy efficiency when building a custom home in Flower Mound is your enjoyment of the place you call home. An open floor plan makes it possible to enjoy the company of family or friends whether you're in the kitchen/dining room, or family room. Open spaces create a more social, enjoyable environment than rooms that are "closed off" from one another by walls.
Regardless of the floor plan you prefer, the custom home builders at Bud Bartley Family of Builders have the experience, skill, and dedicated personal approach essential to bringing your dream home to life. Contact our family of builders today!