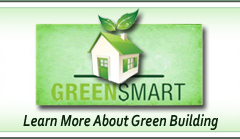 As a trusted builder of custom homes in Denton County, we know that there are many myths when it comes to green building. At Bud Bartley Homes, we like to keep potential homeowners as informed as possible regarding energy savings, quality, materials used, cost, health benefits and other aspects of building a custom home in the Dallas area. Unless you are up to speed with green building, there are a few myths we'd like to dispel.
You don't have to be a "tree hugger" to enjoy a custom green home. Many people believe that if you're going green, it has to be all or nothing. Some who are totally green are a bit fanatic; if you can't live in a way that is 100% environmentally friendly, you might as well live in an apartment. That is ridiculous. When building a custom green home, you go as green as you feel comfortable with.
You'll sacrifice comfort by building green. Absolutely not! In fact, the opposite is true. You never have to sacrifice comfort in a custom built green home. HVAC systems are designed to keep your home comfortable and eliminate hot and cold spots. Natural lighting offers abundant light in the areas of your home you enjoy most. Even temperatures throughout your home, lower energy costs. Where is the sacrifice in that?
Your home will look strange – and everyone will know it's "green". This is laughable. The truth is, no one will be able to tell that your home is green! Elegant, comfortable living spaces designed with your family in mind, just the way you want it. Sure, a few decades ago there were some strange looking homes during the initial energy crisis. Today, green homes look exactly like traditional built homes; the difference is, green homes outperform conventional code-built homes in terms of energy savings, better health for your family, and a healthier environment.
At Bud Bartley Homes, we know that available budget and homeowners' priorities dictate how many green features are incorporated in to a new custom home. It really doesn't have to be "all or nothing." We constantly strive to build exceptional quality homes that incorporate green features without adding cost to you, the consumer. We urge you to take those green building myths for exactly what they are – myths.
Interested in learning more? Sign up for one of our upcoming events or give us a call at 972-318-3802.