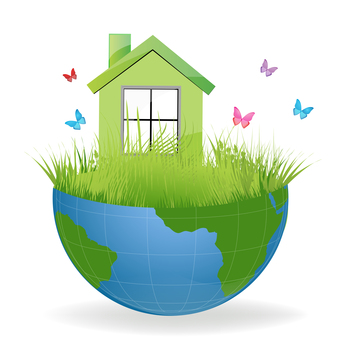 Maybe you're considering building a green home in Dallas, but aren't really aware of the advantages of "going green". Today, more and more people are becoming environmentally aware, even though they may not really understand how building a home under traditional codes affects both the environment and their families. At Bud Bartley Homes, we want those who are considering custom green homes in the Dallas area to be aware of the advantages of "going green" in regards to home ownership.
Actually, there are three distinct advantages of green homes: the benefit to the environment, to the health of your family, and to your budget, as green homes save homeowners a substantial amount of money on energy costs over the long-term.
What are some of the real advantages of affordable green homes?
They really are affordable. Homeowners who have chosen to build green notice that their homes requires fewer repairs, are more durable because of higher-quality building materials, and cost less to heat and cool. This is because of the appliances, insulation and air sealing methods used in constructing a green home.
Your home is worth more should you decide to sell in the future. Because the demand continues to rise for green homes, their value increases. Invest now, and you will enjoy a home that is worth more in future years.
Custom green homes use fewer natural resources, and are often constructed using recycled materials where possible. Because alternative energy sources are often used, green homes help you spend less on energy costs, and also make homeowners less dependent on conventional energy sources.
The health benefits to your family are substantial in green homes. Because natural ventilation methods and toxin-free building materials are used in construction, families experience fewer issues with polluted air, mold, mildew and other toxins.
Statistics have shown that custom green homes consume on average 40% less energy than homes that are built using conventional standards. You can just imagine the savings that means for you on monthly utility costs.
At Bud Bartley Homes, we've been building affordable green homes in Dallas for decades. We are a leader in the green homebuilding industry, providing elegant, upscale custom homes for those who demand an exceptional living experience without the luxury costs.