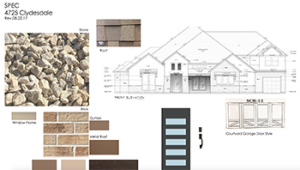 Naturally, anyone looking to build or buy a custom home in Flower Mound wants plenty of choices and value, and many are looking for spacious homes that are as functional as they are inviting and comfortable. Our North Texas custom home builders know what homeowners want – and maximizing your home-buying dollar is an important factor. What floor plans are preferable for your lifestyle, and are there design options that reflect your personality and design preferences? Here's how our team of expert craftsman meet your particular requirements in a home, likely your biggest investment.
First off, is quality craftsmanship. When you're investing in a home that your family will love, the first thing on your mind is value. We've been providing custom homes in the Dallas area with long-term value for decades, and are a family of builders who are dedicated to quality in every detail of design, as well as the materials used in building your new home.
A wide array of options when it comes to floor plans and layout. No one who's investing in an upscale home in an affluent neighborhood wants a home that's like every other home on the block. We offer a variety of options that meet your particular needs, whether you prefer an open floor plan or one that's a bit more cozy and private. With several custom homes in the building phase now, and more coming, we make it possible for those who are ready to move in the immediate future to find the perfect home; or for those who are seeking to build, customize finishes, floors, cabinetry, color schemes, lighting and other design elements during the beginning stages. It's up to you!
What do you want specifically in home design? Whether it's the brick colors, knobs on kitchen cabinetry, bathroom or kitchen faucets, sinks, the kitchen pantry or any other detail, your home will reflect your unique personality and taste. Having a home that's truly "you" is important to your comfort and happiness in a home.
Space. Whether your dream is a 2,600 sq. ft. home or one that's twice the size and sprawling, you want the most bang for your buck. Our custom builders are dedicated to helping you solve the issues you face in regards to spaces that are not only inviting and comfortable, but also functional. Ultimately, we know that even those with few budget concerns want the most for their money. We work personally with you to ensure satisfaction and results that exceed your expectations.
At Bud Bartley Family of Builders, we have been building custom green homes in Flower Mound and the surrounding areas in North Texas for over 30 years. Come see why we are one of the most trusted teams in the Dallas area and learn about the materials and building techniques we employ in constructing beautiful, quality homes for the most discriminating buyers.