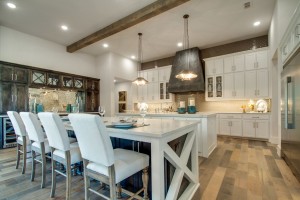 Many families are choosing to go the new custom home route today, rather than buying a previously owned home in North Texas. Custom homes make it possible to customize your home according to your family's preferences and needs, and many who choose to go in this direction tour model homes in various communities with their Realtors. If you intend to tour model homes, it's important to realize that there's more to it than simply walking through and taking it all in. Our custom Flower Mound home builders have a few tips to help you make the most of your tour.
First of all, have various options in mind before taking a tour. Taking a look at various floor plans can help you figure out whether the home you tour is really what you're looking for in terms of number of bedrooms, a home office, and other features. Just because a model home you love lacks the fourth bedroom, or doesn't have a loft, doesn't mean it can't be built to your liking.
Look past the fancy decor. Many model homes are decorated to the hilt to make them more attractive to buyers. It's important to envision your own furnishings in the home, and to pay close attention to room size, kitchen layout, floor plan, and other elements of the home, and its structure. Try to look at the actual layout and structural elements, rather than the perfectly placed accessories and furnishings.
Take notes. It's likely you'll tour at least a handful of model homes, and it's impossible to remember which home had a catwalk, which one had the huge master bath you loved, and other details. Make notes of which model home you're touring, those features you love, and what it is about the home you like the least. You might also want to consider taking photos of each home's interior to help jog your memory. Once you've toured all of the model homes you intend to tour, your documentation and photos will help immensely in deciding which best suits your needs in terms of space, layout, design features, etc.
Don't try to crowd five or six tours into one day. More than two is really overload, and you'll have trouble trying to keep them all separate in your mind. It's important to reflect on how you feel about a home and your thoughts (positive and negative) about each, so keep it to one or two tours in a day's time.
These are a few things to keep in mind when you get ready to tour model homes before having your own custom home built. Be sure to ask any questions you have regarding warranties, HOA fees, what architectural options and design choices are included with the home, etc. When it comes to the biggest investment in your life, now is not the time to stay quiet!
At Bud Bartley Family of Builders, we've been in the custom home building industry for decades and employ master craftsmen who are dedicated to quality in every detail. When it comes to your dream home, put your future in trusted hands.