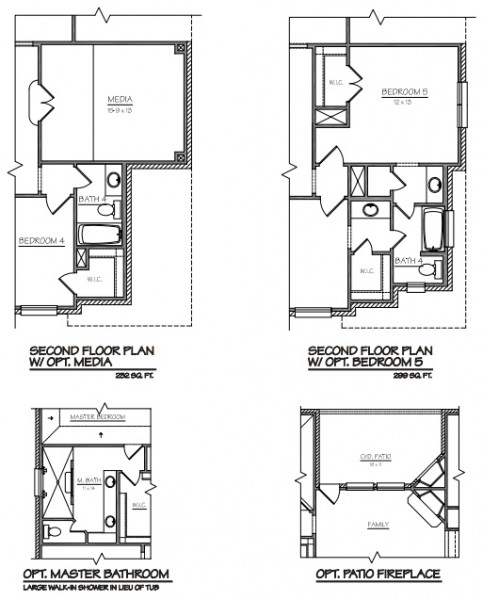 At Bud Bartley Family of Builders, we've been in the custom home building business in the Dallas-Ft. Worth Metro area for more than three decades. We understand that those who plan to build a custom home have very diverse needs in terms of floor plans. There are several factors that must be considered so that your new home meets your needs in terms of space (family size), functionality, and more.
There are literally countless ways that rooms, walls, stairways, and halls can be arranged in a home. Before you decide on a floor plan, consider the following:
Size of your lot. It's fairly obvious that you cannot build a sprawling one-story custom home on a small lot, but consider multiple stories; or, if your property is on the side of a hill, a split-level plan may work.
Furnishings. If you intend to use most of the furniture you already have, consider how it will fit into the rooms of your new home. Will your over-size sectional sofa fit in your living room while leaving plenty of walking space?
Do you have a large or growing family? Naturally, a larger family requires more space, particularly when it comes to bedrooms. Family size is one of the most important considerations in terms of square footage/number of bedrooms. If you plan on expanding your family, think about how a den, library, or office may be transformed to a bedroom later on.
Do you currently work at home or intend to in the future? Working at home is becoming more and more common, meaning many homeowners need a home office. When deciding on a floor plan for your Flower Mound custom home, you want to place your office away from noise and family activities in order to avoid distraction. A location that isn't too close to the kitchen, family room, or game room would be ideal.
Frequent entertaining. If you entertain family or guests on a regular basis, you may want a separate formal dining room with a bit more space than the breakfast nook. However, if you rarely entertain it may be more suitable to have only one space designed for family meals.
That's the great thing about building a custom home in the North Texas area – you are the one in control of the floor plan! However, when you have questions or need help deciding what would work best for your unique situation, the experts at Bud Bartley Family of Builders are always more than happy to help!