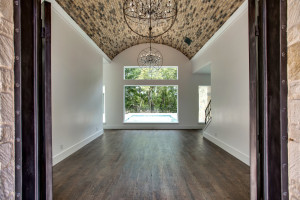 When you're building a custom home in Dallas, it's probably the most exciting time of your life. While having a home built to your specifications is certainly a dream come true, it can also be a stressful and anxious time. It's critical to choose a builder (and perhaps architect) you know is reputable and trustworthy, but it's also important to plan ahead.
Planning ahead can take a considerable amount of time to ensure your dream becomes a reality – sometimes months, sometimes even years. Materials used in constructing a new custom home change, as do design trends. In order to truly enjoy the experience and fulfill your dreams, thorough research on builders in your area, employment, educational opportunities, design trends, materials, and other aspects of the process is important. Otherwise, you may find your custom "dream" home isn't really the dream you had envisioned.
As trusted North Texas custom home builders, we have a few simple tips that will help ease the stress and ensure it really is an exciting adventure, filled with the anticipation of moving into your new home.
Set a budget that's realistic
When you find a builder you like, be sure to check references
Thoroughly examine the home builder's warranty
Consider your homesite carefully, and whether the style/design/size of home you want can be properly situated
Walk through the floor plan in your mind over and over again
Consider the views facing your home in various directions, and the natural light for cooling/heating purposes
Make a list of priorities along with a "wish" list (things you'd love, but that aren't a necessity)
Expect to spend more than you initially anticipated
Include features that are energy efficient
Consider additional conduit behind walls for future electrical needs
Use low or maintenance-free building components when possible
Invest in ample storage (walk-in closets, pantries, linen closets, etc.) – most homeowners find they can never have too much storage space
Search online and attend home shows to get helpful ideas; be sure to take pictures of homes and/or features you love
Real estate agents can't stress enough, "location, location, location." With builders, it's "insulate, insulate, insulate."
Make sure the laundry room is convenient to bedrooms
Include walkways and stairways that are wide so they provide easier access for a handicapped/disabled parent or family member in the future
Remember you don't always live life indoors, so plan for outdoor living space and activities
Include outdoor outlets for power tools, holiday lights, etc.
Ask questions – what does the builder charge to build the home, and what extra charges might there be?
Don't get in a rush; take time to have your custom home built right
Building a custom home in any of the outlying Dallas suburbs doesn't have to be a headache and tension-filled process. While there will no doubt be a bump or two along the way, it should be a fun and exciting journey. At Bud Bartley Family of Builders, our goal is to go above and beyond your expectations in terms of quality, workmanship, and design. Call us today!