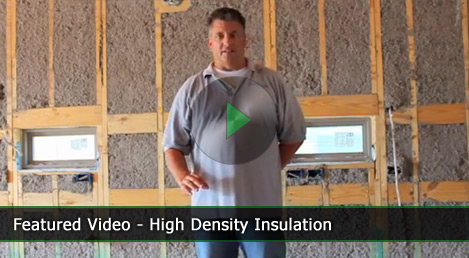 While fiberglass insulation is the type used in most conventional homes, high-density cellulose is the type chosen by more green homebuilders than any other. Why? There are several reasons. If you are concerned about doing your part to protect the environment and are considering a semi-custom home, here are a few facts that will enlighten you about the benefits of high-density cellulose insulation.
Cost effective. While cellulose typically costs more to install, the homeowner quickly recoups the cost through monthly energy savings, and the fact that a smaller HVAC system can efficiently heat and cool a home that is well insulated.
Thermal factors. Conventional insulation typically offers an R-value of 2.2 per inch, while cellulose offers a 3.8 per inch R-value. Did you know that conventional insulation is difficult and often impossible to install properly around wires, pipes and other obstructions? Ultimately, this reduces the R-value in your walls, meaning the wall you thought had an R-19 rating now has an R-11.
Mice, mold and other nasty intruders. Because some brands of high-density cellulose insulation contain fungicides registered by the EPA, the growth of mold is inhibited, and termites, mice and other vermin won't try to make their way into your home so readily.
Energy savings. Because cellulose insulation is so dense when compared to fiberglass, air and moisture are blocked from entering your home. Studies reveal that buildings constructed using high-density cellulose use 20% to 40% less energy than those built using fiberglass insulation. This means that you will save a bundle on monthly energy costs.
If you are considering a semi-custom or custom home in the Dallas area, speak with your contractor about all of the advantages of the only type of high performance insulation considered "green" – cellulose. Made of approximately 82% recycled materials, your home is better protected against fire, has a better sound barrier against outside noise, and is healthier for your family.
At Bud Bartley Homes, we are the Dallas custom and semi-custom homebuilders who want families to understand the factors that go into building their homes, and the advantages of the choices they make. Give us a call, and let us answer any questions you may have regarding insulating your home.