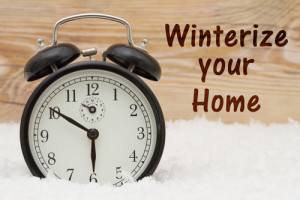 As Flower Mound custom home builders, we build our homes to make them as energy-efficient as possible, so homeowners enjoy comfort and money-savings year-round. From windows and insulation to the HVAC system, we go to great lengths in terms of energy savings. That said, it's November and many homeowners are considering how to winterize their homes even further. We have a few tips you'll appreciate!
Have a beautiful fireplace in your home? Before you use it, check to ensure there aren't any critters making the chimney their home, and make sure that it's clean. You'll also want to keep the damper closed when not in use to keep out cold air.
Switch the ceiling fans to reverse mode. Warm air rises, and your ceiling fan can help pull the warm air floating up around the ceiling back down into your living spaces. All you need to do is switch the ceiling fan to "reverse" mode so that it's rotating in a clockwise direction, and keep it on low speed.
Be sure your smoke and carbon monoxide detectors are ready to go. It's a good idea to change batteries in these devices when the time changes, so if you didn't do it a couple of weeks ago, you'll want to change out the batteries now. Also, make sure your smoke and/or carbon monoxide detectors are functioning properly.
Wrap the pipes. While temperatures in North Texas don't drop down to frigid levels often, it's best not to take any chances. Most home supply and hardware stores carry pre-slit pipe foam designed to insulate pipes. All you have to do is use a little duct tape to hold the insulation in place.
Don't waste heat when you're not at home. When your family is away at work, school, or doing a little holiday shopping, why heat an empty home? Turn the temperature on the thermostat down three or four degrees, and save on heating costs. A smart thermostat makes it possible to control your settings using your cell phone remotely, so you can bump the temperature back up as you're heading home to enjoy cozy, warm comfort upon your arrival!
Is your home prepared for winter? At Bud Bartley Family of Builders, our custom home builders in North Texas focus on quality materials, energy efficiency, function and more. For a beautifully designed new Flower Mound home you'll enjoy in every way, count on our trusted team of builders.