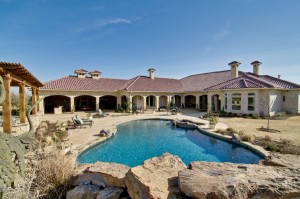 As custom Flower Mound home builders, we know many people purchase homes that someone else has lived in – it just seems easier than starting from scratch, but there are more than a few reasons you should buy new. Why consider a custom home instead?
You get the home of your dreams. Instead of a home with someone else's vision and style/decor tastes, you start fresh. It can be a lot of work to redecorate or remodel a home. With a custom floor plan, you get to make the decisions regarding floor and countertop materials, cabinetry, and more.
Money savings. Sure, it costs more initially to buy or build a custom home, but the savings are substantial. Our green homes are super energy efficient, so you'll save on utility costs each month. Also, factor in the money you'd likely spend on an existing home to update it, or even the costs you'd have to deal with when you find an unpleasant (and unexpected) surprise, such as a leaky roof that needs to be replaced. Which brings us to…
You could be buying the homeowner's problems. The home looks beautiful, and you love it. What happens if you find out, after all is said and done, there is a problem with the foundation, or unseen mold inside the walls or in other areas? You spend a small fortune for repairs.
Little to zero maintenance. When you buy a new home in Flower Mound everything is brand new, so you don't have home "projects" to work on constantly in order to keep your home in good condition.
Selection. Most people prefer a home that's unique to their neighbors', not one that's a replica of every other home in the neighborhood. From brick, stone, and siding to granite, wood, tile, roofing materials and even floor plans, our selection makes it easy to enjoy a quality custom home that stands apart from the rest.
The best bang for your buck. There are countless home builders in the North Texas area, so we have to make our custom homes more attractive by including must-have features and amenities, and offering them at the best possible price.
Why settle for a "used" home with used flooring, bathroom and kitchen plumbing, old cabinetry or countertops, and other features that may be out-of-date or need replacement in the near future? You can choose to spend your money more wisely by buying a new custom home.
Bud Bartley Family of Builders builds upscale custom homes in Flower Mound and around North Texas; homes that are crafted of the highest quality materials and designed with energy-saving and smart technology features to make your life easier and more comfortable. Whether you're interested in one of our move-in ready homes or want to start from scratch on your own lot, we are dedicated to your satisfaction.