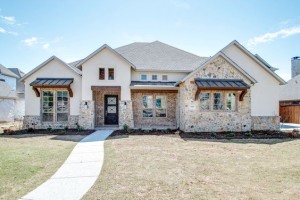 As trusted Flower Mound custom home builders over the past several decades, we know there are plenty of reasons to purchase a newly constructed Dallas home – perhaps most important of all is that you're the first family to live in it! It's brand-spanking new and clean, and nothing feels better. What you want is a home that limits exposure to chemicals that can potentially make you sick, one that employs the latest building techniques, and for some, a home that's built using eco-friendly materials and equipment. What are some of the other benefits of buying a home that's newly constructed?
If you're building a custom home from the ground up, you have the opportunity to create a space that's totally customized for your unique taste and style preferences, from paint and flooring to cabinets, layout, and even lighting fixtures and hardware finishes.
Enhanced energy efficiency. Newer homes are "tight," which means they're more efficient when it comes to heating and cooling. It's also important to note that indoor air quality isn't compromised when you choose the latest HVAC and air filtration technologies.
Superior compliance when it comes to safety codes. From fire safety features, such as insulation that's far less likely to catch fire, to hard-wired smoke detectors and materials that are flame retardant (carpets, etc.), a newly constructed home is much safer than one built decades ago, and complies with local safety codes.
Less costly to operate and maintain. From building materials such as roofing and siding to appliances and heating/cooling systems, a newly constructed home will require less maintenance, and hold up much better than an existing home built 20 years ago. Ultimately, you can enjoy a quality, beautiful home without the constant worries of maintenance.
When it comes to technology, today's homes are "smarter." From programmable thermostats that make it possible to control your HVAC system remotely to tankless water heaters, whole-house wi-fi, and high efficiency appliances, today's homes are far more energy efficient – and even more secure, considering you can control and monitor security systems even when you're away for a few days or on vacation.
A new home comes with a warranty, so you're protected for a specified amount of time should the water heater malfunction or the roof leak. No one wants to face those little problems that can quickly become huge (and costly) headaches. A warranty guarantees that, should you experience any issues covered in the warranty within the specified time period, you won't be forking out the cash to have the problem resolved. Peace of mind!
There are many more reasons why buying a newly constructed home is a smart idea. At Bud Bartley Family of Builders, our mission is to provide Dallas-area homeowners who desire an upscale, quality home in the Flower Mound or Highland Village area with excellence in every aspect of design, materials, and workmanship. Trust our team to deliver your dream!