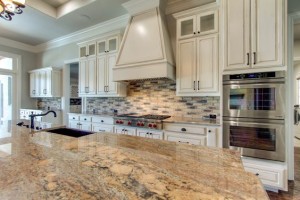 As one of the most reputable custom green homebuilders in North Texas for decades, we're well aware of the latest trends in design. For instance, white cabinets in the kitchen are all the rage, and this trend continues. White cabinets, countertops, ceilings, walls – how can you keep it from looking so…antiseptic? By adding contrast, color, and warmth.
Here's how to add a little spice to a white kitchen.
Have an island or peninsula in your kitchen? A nice shade of gray or blue-gray paint underneath, in the area where barstools set, adds a splash of color. You may want to consider an open oak or walnut shelf placed beneath the cabinet on one wall, a few strategically placed plants, or putting some colorful dishes or a cutting board on display to balance out the white.
Contrast white walls and countertops using touches of black, wood, and an accent color. A black granite countertop, butcher block for the top of the peninsula or island, and an accent color used in light fixtures or decor items gives a white kitchen depth and dimension. Gray, mint, or any color of your choice for small accents such as light fixtures or shelf knick-knacks work well with white and black.
Looking to add a bit of warmth? An all white kitchen can tend to look cold and even sterile. Wood is ideal for adding warmth to a room, so you may want to consider oak flooring or even a walnut stained custom range hood to make the kitchen warm and inviting. For the island, consider a soft, light gray shade that's only slightly discernible from the white to soften things up and provide contrast.
No matter what look or atmosphere you're trying to create, artwork for the walls can always provide a "pop" of color in a kitchen that's primarily white.
White is the most popular choice in today's kitchen; in fact, a study conducted by Houzz revealed that in 2017, about 42% of homeowners will choose white cabinets. It's beautiful, clean, and bright, but it can also lack character or comfort if you don't provide color, contrast, and warmth. We hope these tips help!
Ready to get started on your dream home, or choose a custom home that's move-in ready in the Saddlewood of Flower Mound community? At Bud Bartley Family of Builders, our Dallas custom homebuilders are dedicated to quality in materials and workmanship, along with highly satisfied, happy clients. Contact us today!