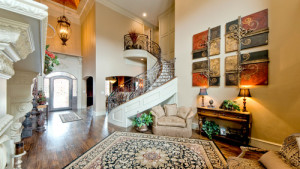 Because of our long history in the custom home building industry in the Dallas area, we know all too well how things have changed over the past few decades – and have they changed! At Bud Bartley Custom Homes, we thought you may be interested to learn about some of the hottest trends in custom homebuilding in Dallas, and what many custom builders have predicted for this coming year.
Here are just a few of the many predictions regarding new custom homes in Flower Mound, Highland Village, and other prestigious suburbs outlying the Dallas area.
Integrated indoor and outdoor spaces. No longer are backyards, beautiful gardens, and pergolas a separate space. Homeowners want a seamless transition from the indoor living area to the outdoors. This often incorporates the use of large expanses of glass, motorized screens for screened in porches, and exterior walls that flow seamlessly into the inside of the home.
Multi-purpose rooms. Today's buyers want rooms that are functional and efficient, and that can be used for more than a media room or home theater. Often times, rooms designed for a single purpose become wasted space over the years. This year, rooms will become multifunctional.
Less stain, more "fun" paint colors. Stained wood certainly brings warmth to a room, but today's home buyers are a little more creative and looking for ways to "jazz up" their interior spaces. In 2015, paint tones will trend toward cool colors. Much of this change in interior design can be attributed to the use of sites like Pinterest and Houzz, which give homeowners the confidence to do something different.
Bright, open spaces. LED lighting and floor-to-ceiling windows are predicted to be a huge trend in Dallas custom home building this year. Homeowners want bright, light rooms with beautiful, uninterrupted views to the outdoors. Light also adds to the perceived spaciousness of a room.
Home automation. This may be the biggest trend of all, as technology now makes it possible for homeowners to control security systems, lighting, appliances, thermostats, and more from their phones. Some predict that it won't be long before homeowners can use their iPhones or interior home controls to lock exterior doors via Wi-Fi.
Home offices will be shrinking in size. Since most data is stored on computers and many homeowners are choosing to pay bills online, our society is moving toward a "paperless" environment. No longer do homeowners need large home offices to accommodate files, documents, bills, paper, etc. – and given that many devices are multiuse and shrinking in size, a smaller home office will be popular. In fact, many homeowners are skipping a home office altogether, and going instead for a "command center" located in another room of the home, a dedicated space for tending to bills or work.
These are just a few of the predictions we believe will come true this year in custom home building. My, how things have changed!
If you are considering a Flower Mound or Highland Village custom home, trust the builders at Bud Bartley Custom Homes for results that go beyond your expectations.