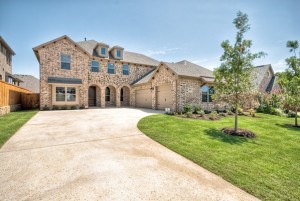 From cabinets, counters, and insulation to energy efficiency, as one of the more reputable builders of custom green homes in Dallas, we keep up with the hottest trends. If you're considering a home in Flower Mound or any upscale community in or around Dallas, we thought you'd find these custom home building trends interesting and perhaps informative in building your own home.
First of all, who's the clientele? For the most part, empty nesters and baby boomers. Many people believe that custom built homes are getting smaller in size because of people's desire to live smarter, however the average square footage typically falls somewhere between 4,000 and 7,000 sq. feet. The size of the home isn't always what dictates living smarter – it can be the cost of the lot, energy-efficient features and materials used in construction, and more.
In terms of exterior facades, the most requested styles include modern, contemporary, Mediterranean, traditional, and country French – really, anything goes!
What are the must-have materials when it comes to tile, hardware, and flooring? Warm gold tones and brass are highly popular for hardware, lighting, and other decorative features. Hardwood floors and natural stone countertops and flooring are hot, and in some applications, porcelain is the desired material. Glass subway tiles and walls crafted of stacked stone are also highly popular among homeowners.
When it comes to energy efficiency and becoming more "green," blown-in cellulose, fiberglass, or foam insulation is a must, along with quality windows, smart WiFi thermostats, high-efficiency HVAC systems, tankless water heaters, and Energy Star rated appliances. While it seems many who are building custom homes in the Dallas area don't mind spending millions for their dream home, they're still concerned about energy consumption and cost!
When it comes to kitchen countertops, think engineered stone, quartz, and marble instead of concrete or granite. Cabinetry is changing as more clients desire light colored wood in white or gray colors, weathered oak, and even stain-grain woods that remain unpainted. When it comes to cabinetry, it all depends on the client.
At Bud Bartley Custom Homes we know that's the beauty of building a custom home – it's custom! Designed just the way the homeowner desires, with features and amenities that make the client feel at home. While trends come and go, what you want in a home is truly up to you. Call us today to learn more about our dedication to quality and exceptional workmanship.