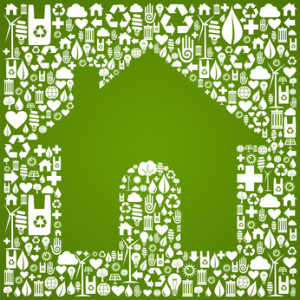 If you're considering a custom built green home in Flower Mound or any community in the Dallas Metro area, you may not be clear about what sustainable home building is. In fact, the terms "sustainable," "green," and "eco-friendly" are sometimes used interchangeably, but essentially they mean conserving the earth's natural resources while saving homeowners money, thus improving the environment for future generations. At Bud Bartley Custom Homes, we wanted to explain to readers more about what sustainability is, and why green homebuilding is no longer a fad, but a mainstream way to build quality, elegant homes around the nation and the world.
Recently, an article at Green Home Builder magazine reported that of those building single-family or multifamily homes, consumers are willing to pay more for green homes – up to 73% of those building a single-family home are willing to spend more due to the many benefits of a green home, which include healthier living, increased resale value, and lower utility costs.
Some of the aspects of building a sustainable or "green" home include using renewable energy sources such as solar panels, spray foam insulation, even reclaimed wood for floors, doors, and other wood elements in a home. Radiant barrier roof decking, variable speed furnaces, high efficiency HVAC systems, and even full foam encapsulation are some of the features used in constructing sustainable homes today. Having Energy Star certified appliances installed in your Flower Mound home will also reduce energy usage, saving on electricity, water, and your pocketbook funds.
We realize that sustainability isn't achieved through home building only; in fact, many homeowners have become more aware of how their landscaping can help with water conservation, and reducing water pollution through methods that lessen or redirect storm water runoff. It's all about living well, while conserving energy, water, and reducing pollution. While the cost initially is a bit more, the savings down the road – and the benefits to our environment for our children and grandchildren – are definitely worth it for most consumers.
Considering a green custom home in Flower Mound? Count on Bud Bartley Custom Homes, the most trusted name in the industry for more than 30 years.