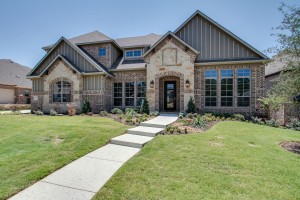 Today's new homes are "smarter" in so many ways than homes of even a decade or two ago. If you're having a custom home built in North Texas, no doubt you'll want to know about the latest trends in smart home technology, and the benefits. From security to lighting systems, entertainment and climate control, there are so many ways to make your home more convenient, energy efficient, and enjoyable.
Security upgrades is the most popular trend at the moment, as homeowners who work and are frequently away from home want to be able to see what's going on, no matter where they are. From receiving alerts about a possible gas leak or fire to attempted break-ins, homeowners enjoy peace of mind and can quickly alert authorities to any situation.
Entertainment is next on the list, as more than a quarter of homeowners desire to have the ability to monitor or control television and other entertainment from other areas within the home, or even when away from home. Smart TVs, voice-activated control systems, and connected entertainment devices provide a level of automation that increases your family's comfort and enjoyment, not to mention convenience.
Climate control and lighting are other smart home trends more families are considering today, for a variety of reasons. More and more homeowners want to reduce energy consumption and have the ability to control or monitor their heating and cooling systems while at home or remotely. When it comes to lighting, it isn't simply about being able to see or perform tasks anymore. Lighting can change the mood or atmosphere of the room, or even impact energy consumption and costs. Homeowners enjoy having the ability to monitor and control lighting in their homes, even at a distance.
When compared to security, climate, entertainment, or lighting upgrades that do not offer mobile connectivity, homeowners who choose upgrades that provide mobile connectivity and the ability to control the systems of their homes while at home or away are far more satisfied.
What are the smart features you would want most in new custom homes in Flower Mound? At Bud Bartley Family of Builders, our home builders stay on top of the latest trends in building so that we can design and build a home that truly is a dream come true for our clients.