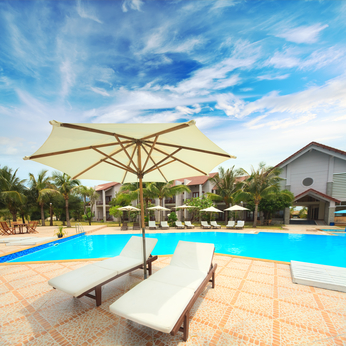 At Bud Bartley Homes, we realize that while everyone would love to take a week-long (or even two week) vacation during the spring and summer months, sometimes it just isn't possible. However, our Flower Mound home builders have some great tips to transform your home into a "staycation" resort or get-away you'll enjoy just as much as the most luxurious hotel or beach!
Now is the perfect time to enjoy the outdoors, before it gets too hot. Here are our ideas for transforming your home into a relaxing, stress-relieving sanctuary:
Hang a porch swing. What's more relaxing than swinging on the front porch and taking in beautiful surroundings or reading a good book? You will enjoy the serenity – and the charm of a porch swing will only add to the curb appeal of your home.
Add a fire pit in the back yard. Nothing's more relaxing than gazing at a fire, or even roasting marshmallows on cool spring evenings. A fire pit is an easy addition; just dig a square or round pit into the ground, line with stone of all shapes and sizes, and enjoy! Great for chatting with visiting friends while enjoying a glass of wine, too.
Sooth your nerves with a fountain. When it comes to sounds, nothing is more soothing and calming than gently trickling water. Have you thought about a fountain for the back yard? This is an easy do-it-yourself project, considering all you need is municipal water, some large stones and a pump!
Add an arbor bench. If you're an outdoor lover who could spend all day in the great outdoors, an arbor bench decorated with vines, greenery, climbing roses or all on its own is the ideal spot to enjoy a nap or get involved in a good book. Another way to add to the beauty of your property as well!
These are just a few ways you can turn your outdoor space into a relaxing retreat. April and May are some of the most comfortable and beautiful months in the outdoors in North Texas, so make the most of it! Enjoy the outdoor surroundings of your Flower Mound home as much as you do the indoors.
At Bud Bartley Homes, our job is to build beautiful, quality custom homes for those in the Flower Mound and surrounding communities who demand the best in workmanship – but we also want to help you enjoy the rest of your property!