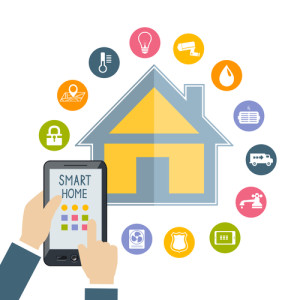 While there are countless advantages of building a custom home over buying an existing home, one of the biggest benefits is all of the technology features available today. From security alarms and HVAC control to lighting and appliances, find out what's possible in the technologically advanced homes of today!
Secure your home using your smartphone. From smart security systems to window, door, and built-in motion sensors, there's no reason for a home not to be secure today. Suppose your family left for a week's vacation and you just remembered you forgot to turn the security alarm on; no problem! Smart security systems make it possible to handle the task using your phone, so you enjoy peace of mind.
Heating and cooling. Many of today's HVAC systems are "smart" when it comes to air control, capable of tracking your daily routine and making adjustments in terms of temperature, humidity level, and more. Some systems can sense when no one's at home, and adjust temperature accordingly. In addition, many thermostats today can be controlled remotely using your phone, so you have control when you're away at work or on vacation. Programmable thermostats are another good option.
Automated lighting systems provide added security. What tells a potential burglar no one is at home? When the entire house is dark for several consecutive nights while you're on vacation. With an automated lighting system, you schedule when the lights will turn on and off during the day and/or night, making it appear as though someone is at home. Great for deterring would-be thieves!
These are just a few examples of what's possible technology-wise with today's homes. Even some dishwashers, shower controls, refrigerators, and other appliances offer "smart" features to make life easier.
At Bud Bartley Family of Builders, our Flower Mound custom home builders are primarily dedicated to two things – quality in materials and building, and customer satisfaction. Count on our team of professionals to deliver a "dream" home that goes beyond your dreams!