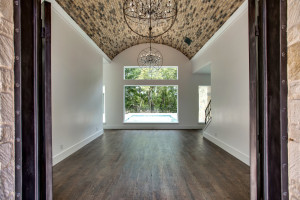 From work kitchens to fitness rooms and "posh" pet stations, there are lots of trends we've seen in the custom home building industry in North Texas over the past year. While the year is almost over, many of these trends will no doubt continue on for many years to come. As trusted Flower Mound custom home builders, we wanted to share a few of these popular trends with you.
While a workout room is certainly nothing new, how they're designed is changing. For instance, some homeowners want a fitness room designed specifically for yoga or Pilates, or one incorporating refrigerators or even floors designed for shock absorption.
Adaptable, functional spaces. Certainly most who build a custom home desire a large home, but today people are looking more toward accessibility and adaptability. Countertops are often taller, dining areas placed adjacent to living areas and the kitchen rather than a separate formal dining room, and wider hallways and doors make for easier access for those in wheelchairs or with mobility issues.
Secondary or "work" kitchens. Because family and guests spend so much time in the kitchen, many homeowners prefer this room to be neat and clean at all times. For this reason, lots of people are choosing to have a work kitchen designed, usually located close to the pantry. This is the ideal place to tuck away the food processor, blender, microwave, toaster, and other small appliances often used in food prep.
Pet accommodations. More people than ever have canine family members – and they don't want them left out of the mix when building a home. Pet stations provide a place to wash and dry Fido, and cabinets for storing pet food, grooming supplies, pet medications, and more. Many also decide on flooring that's pet-friendly in these stations, with built-in kennels.
Automated integration for "smart" homes. Whether controlling the thermostat, lights, security system, or cooking dinner before leaving work, today's Wi-Fi technology makes it possible for homeowners to control nearly everything from their smartphones or tablets – even running a hot bath while out running errands so it will be ready upon their arrival home. Amazing what today's technology can do!
If you're considering a custom home in Flower Mound, count on the highly qualified team at Bud Bartley Family of Builders to achieve your dreams of what your home should be.