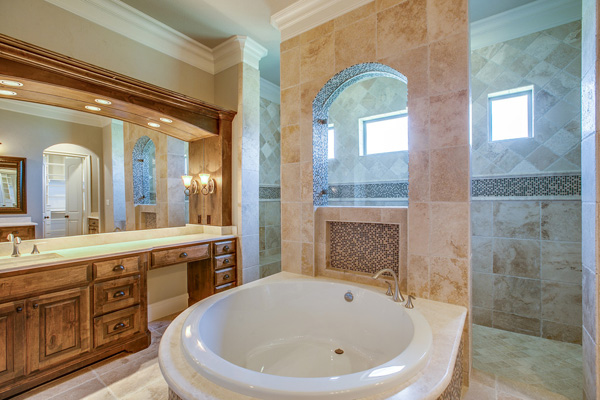 Because of our decades of experience as trusted Dallas custom home builders, we know that design trends change frequently; what was contemporary and "all the rage" five years ago may now look ancient. We also know that for the most part, kitchens and bathrooms are the rooms most affected by these ever-changing trends. Most of the renovations done by homeowners are done to these rooms to give them a fresh, updated appearance.
The good news is that while updating the design of your kitchen or bath may cost a bit initially, both improve the financial value of your home. Whether you're updating your current home, or looking for the latest designs in building your new Dallas custom home, here are a few design trends you won't want to miss for 2013:
Top colors. For kitchens, white has been THE color for quite some time, and it still is. Bathrooms are being done in white as well, with off white and grey finishing out the top three color preferences for kitchens and baths. From cabinetry to floors, walls, and ceilings, white is definitely in.
LED lighting is the most popular among homeowners for kitchens and baths, mostly due to their energy efficiency and durability. While the light provided may not be as powerful or sufficient, many people choose LED lighting because of its eco-friendly qualities.
Stainless steel is out. What's in today for faucets, showers, towel holders, and other kitchen/bath accessories? Bronze and satin nickel finishes rule today.
Fusing contemporary and traditional design. Not long ago, many homeowners chose a single style of design, either traditional or contemporary. Today, transitional style is what it's all about, which is simply a fusion or joining of traditional and contemporary for a look that is distinctive, stylish, and functional.
Porcelain and ceramic tiles for the bath. Because of their durability, simple maintenance and green qualities, many homeowners today are choosing porcelain or ceramic tiles for the bathrooms of their homes. Cost-effective, and beautiful.
Updating your home can be as simple as making a few changes to your kitchen or bath!
Ready to enjoy a custom built home of your own, complete with all of the most popular design options today? At Bud Bartley Family of Builders, our Dallas-Ft.Worth custom home builders are ready to turn your design ideas into a beautiful, quality home for you and your family.