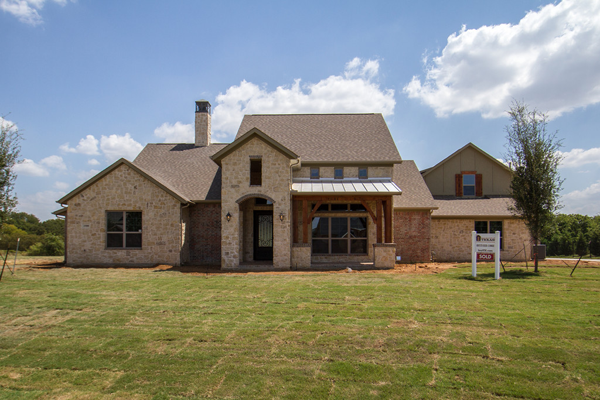 In most every industry you can think of, people are trying to get back to nature. Consumers are demanding whole, natural foods, which is evident by the grocery store shelves. Ingredients in skincare and cosmetic products are becoming more natural with fewer scents and potential allergens. Low VOC paints are the choice of homeowners and contractors. At Bud Bartley Custom Homes, we know there is no better way to get back to nature than with a truly green home in Flower Mound or other surrounding Dallas areas.
Our builders believe that green truly is gorgeous! Here are a few reasons we think everyone should feel good about a green home:
They're filled with character. Reclaimed wood, concrete floors, architectural touches such as trim, doors, or windows – depending on the style of home you desire, a green home can be full of character and personality. At one time in the beginning days of green homes, most were a bit odd in appearance. Today, you can enjoy all of the charm, personality, and character you like while knowing that your home is environmentally friendly, but not obviously so. Elegant, charming, upscale, luxurious; there aren't enough words to describe the aesthetic appeal and atmosphere.
Saving some serious coin on utilities. While it may sound a bit selfish, many people choose to implement green features into their homes not because of a real concern for the environment, but in order to save money. That's okay, too. By having a green home built, the technologies and materials used can literally save you hundreds of dollars per year! True, the cost is a bit more initially, but over time, the savings will pay you back many times over.
A better quality of life for your family. Maybe you've heard of "sick building syndrome," or maybe you haven't. The fact is, poor air quality in a home can put your family's health at risk. The toxins, fumes, and other chemicals used in carpeting, drapes, even certain paints or stains can literally make your family sick, and so can mold or mildew. Green homes result in superior air recycling and ventilation, significantly less mold, and fewer or no toxins or other potentially dangerous chemicals.
The way we see it, there isn't a legitimate reason anyone would NOT want to enjoy a custom built green home. A healthier environment for your family, money savings, increased home value – what's not to like?
If you are considering a custom home in the Flower Mound or Highland Village communities in the Dallas-Ft. Worth metro area, give Bud Bartley Custom Homes a call today.