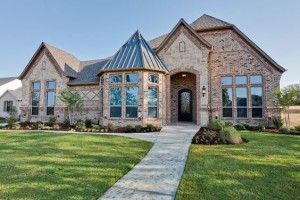 If you're thinking about having a custom home built either on a lot you currently own or land you intend to buy in the future, you may wonder what the time frame is as far as building completion. As Flower Mound custom home builders, we can tell you for certain – it all depends. On what, you may ask? There are several factors that may impact how long it takes to build a house, which we'll discuss below. However, just to give you a "ball park" figure, the average time is about seven months.
We know when you're dreaming of a custom home in North Texas, having it built yesterday isn't soon enough – but have patience, and consider these factors:
Environment, permits, preparation of the lot, availability of workers and supplies, construction style, changes.
The lot has to be prepared before building can begin, which means clearing rocks, trees, brush, etc. before creating a level area for the foundations. Additionally, the time it takes to obtain approval for a building permit, as well as the inspection process, often varies.
Depending on the time of year you want to build, a shortage of labor or building supplies could cause a delay. Typically, summer months are when builders are working like crazy to get homes up for their clients. It's during this time that it may be difficult to find quality labor – even subcontractors including framers, plumbers, or other specialists the design may call for, depending on the complexity of the home.
Environment is a factor in how long it takes to build a home, understandably. Bouts of heavy rain can bring work to a halt, as well as snow or ice in winter months. How the environment impacts time frame often depends on the season/weather, but thankfully there isn't usually substantial snow or ice in the Dallas area in winter months. Temperatures can also be a time factor for drying or setting of concrete, etc.
Changes made by the homeowner, or delays in ordering cabinets, countertops, etc. This is why homeowners must maintain a clear line of communication with their custom homebuilders, as there are lots of decisions to be made throughout the process and you want to make sure you are ahead of the game when it comes to finishes, cabinetry, etc.
Being prepared well ahead of time, communicating with your builder, and knowing there are certain factors that may delay the process are important for maintaining your sanity! At Bud Bartley Family of Builders, our Flower Mound custom home builders are with you every step of the way, helping ensure the construction of your new home moves along as quickly as possible. Contact us today for a great building experience!