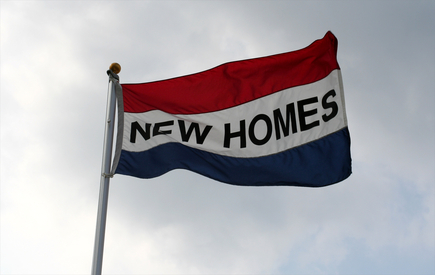 The figures are in, and it's official… sales of new homes in Texas are soaring! Over the last period of 12 months ending in June, Texas home builders have sold more than 33,000 new homes, more than any other state according to a recent Metrostudy report. This is great news for North Texas custom home builders – and even better news for buyers!
According to the study, Florida came in second with a distant 19,400 closings on newly constructed homes, with California coming in at number three. The study also revealed that in the second quarter of 2014, sales of homes in the Dallas-Ft. Worth metro area were up approximately 7% over the same period last year. It seems that the prestigious communities of the metro area are one hot market – in fact, the hottest in the nation right now!
While we don't want to pat ourselves on the back too much, Bud Bartley Custom Homes does produce some of the most elegant, quality, and environmentally friendly custom homes in North Texas today. We are proud to have built many of the distinctive, beautiful homes in the Highland Village, Flower Mound, and other outlying areas of Dallas, and are extremely excited about our new Saddlewood development in the Pumpkin Patch/Flower Mound area.
While our builders are highly skilled and enjoy every minute of producing high-end homes, we are also highly focused on green aspects of home building, and enlighten future homeowners regarding the green features we incorporate into our homes through our Greensmart Education program. No one but the homeowner knows that their home is highly energy efficient, and designed in a way that helps improve the environment for future generations. Today, being "green" is a top priority – but potential homebuyers still demand a home that is built using the highest quality materials by talented builders who are dedicated to outstanding workmanship and attention to detail. With Bud Bartley Custom Homes, you get the best in every aspect of building.
If Texas is your destination, as it seems to be for so many others, put your biggest investment, your home, in the most capable hands. Whether you want to start building your Flower Mound or Highland Village home from scratch, or are looking for a home that's move-in ready, give us a call today!