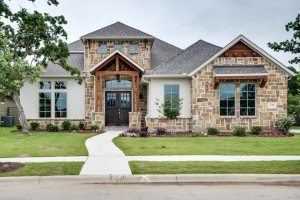 If you're trying to decide between purchasing a 'charming' older home or building a new custom home in the Dallas area, it can be a tough decision to make. Sure there are advantages and drawbacks to both, but most of the time descriptions of older homes can be deceiving. For instance, charming often means old, cozy means small, and fixer-upper means a ton of work and expense. If you're considering a 'charming" older home, we want you to be aware of the pros and cons before you make a decision.
First of all, the pros and cons of an existing or 'resale' home
Pros of an older home include:
Availability – there are simply more 'used' homes on the market
May be easier to negotiate price
Live in established neighborhood
Home could have lots of charm and character
Disclosure documents will allow you to be made aware of any known issues
Cons of older homes:
More expensive to maintain, simply because they're less energy efficient
More maintenance labor/costs, as appliances, flooring, even structural elements break down and eventually wear out
Design may be dated with home including older appliances, carpets, wall coverings, and other amenities
Someone else has lived in it!
Pros and cons of custom built home
Pros of building a custom home:
Vastly improved energy efficiency which means lower living costs
Extended warranties
You choose the style – contemporary, traditional, ranch, etc.
Extensive flexibility when it comes to design during construction phase
May have a HOA (homeowners association) which helps protect resale value
Brand new, no one else has ever lived in your home!
Cons of building custom:
The process takes a few months, so you can't move in immediately
Limited negotiating room in terms of price
There are people who prefer an older home, no doubt about it. However, when you purchase a "charming" older home, you inherit the problems that come with it. You may have to do substantial renovation to make the home the one of your dreams, or spend a substantial amount of money on repairs/updates to plumbing, electrical, roofing, flooring, etc.
When you make the decision that building a brand new custom designed home in the Dallas area is right for you, be sure to choose a trusted, reputable builder. At Bud Bartley Family of Builders, quality in materials and workmanship is the name of the game. We're dedicated to excellence, and your satisfaction!