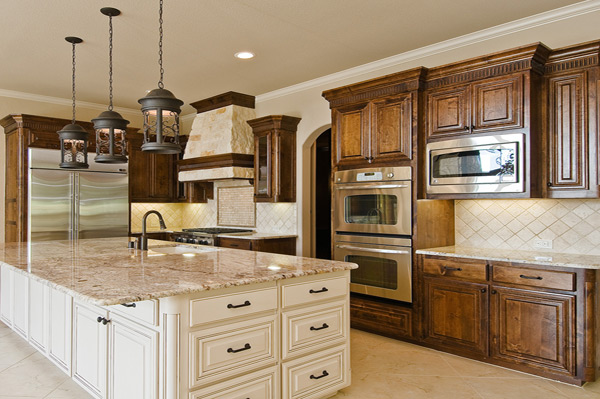 What are the trends in luxury kitchens today? As trusted north Texas home builders, we know the kitchen is one of the most popular rooms in the home – in fact, THE most popular and used by every member of the family. The kitchen is essentially the "heart" of the home, where families enjoy meals, cover the events of the day, and just enjoy each other's company. If you're curious about the latest kitchen design trends for custom Dallas homes, here are a few we think you'll find interesting.
Spaces that conceal kitchen appliances. In the past, most kitchens displayed appliances that remain on the counter top due to frequent use such as toasters, can openers, coffee makers, toaster ovens. Today, the look is clean and uncluttered with open spaces focusing on beautiful cabinetry and distinctive counter tops. Cabinetry panels are used in many custom homes today, concealing dishwashers and refrigerators, giving your kitchen a continuous visual line of cabinetry.
Using sustainable materials. Eco-friendly kitchens are huge today, and more beautiful than ever. Components of an eco-friendly kitchen include pull-out recycling stations, convection ovens (cooks foods 25% faster, resulting in less energy use), top/bottom refrigerator and freezer units (more energy efficient than side-by-side models) and counter tops crafted of recycled stone-chipped composite.
Flooring and back splashes created from bamboo. Bamboo is one of the most eco-friendly wood products that can be used in your kitchen, growing extremely fast versus some hardwoods.
Neutral tones. Sand, taupe, shades of brown, cream shades and other neutral tones are just as popular today as they have been for years. When blended with various woods, stone, metals, glass and other materials, homeowners can showcase their personal design preferences, adding splashes of color and decor items to make the look their own.
If you're considering a north Texas custom home in the Dallas or Flower Mound area, keep these luxury kitchen design trends in mind for a kitchen your family will love as much 10 years from now as the day you move in!
With more than 30 years in the Dallas custom homebuilding industry, Bud Bartley brings a level of elegance and quality unmatched in the industry today. Let us build your dream home!