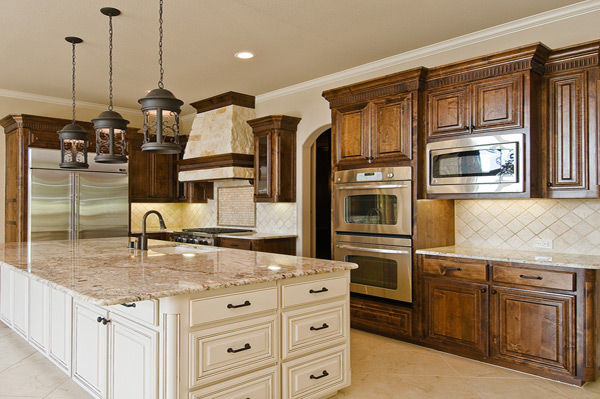 At Bud Bartley Custom Homes, we know that planning every detail of your new custom home in Flower Mound, Highland Village, or other prestigious areas in the Dallas-Ft. Worth metro can be exciting, fun, even adventurous – but it can also be a whole lot of work. This is the type of work that most people don't mind, considering when all is said and done they will have the home of their dreams. In this post, we'll talk about designing your new custom kitchen, the hub of the home.
For most homeowners, the kitchen is where a lot of time is spent. Something just "pulls" the family and even guests into the kitchen/dining area. Here are a few details to consider when having your custom home built by reputable, trusted builders.
Consider going "high end" when it comes to appliances, sinks, faucets, and cabinets. Going with high quality in the beginning will save you money over the long run, as replacing cabinets and sinks will be more costly.
Cabinetry literally "makes" the kitchen. In most kitchens, the cabinets are the focus of the room. You may want to have custom cabinets built, or even include open shelving in the mix if you prefer a more old-fashioned appeal. Dark, light, with or without glass doors – there are so many options, and the choice you make is vital to the overall appeal of your kitchen once it's complete. White cabinets are hugely popular today, something you may want to consider.
Quiet appliances. This pertains mostly to the dishwasher, as many are loud when running. Try to choose a dishwasher that is known for quiet operation.
Which appliance finishes will lend to the design of your kitchen? Stainless steel, slate, ice white, and more. Before you automatically choose a stainless steel finish for your refrigerator, range, or other appliances, do a little research to see what's available, and what's "hot" today.
Lighting. Lighting sets the mood in your kitchen, and is used for specific tasks. Recessed or hanging lights, fluorescent lights, or task lighting beneath cabinets for those chopping/cutting tasks. Consider lighting carefully; your lighting needs will also be different if you have lots of windows allowing natural light to come in.
In the kitchen, resilient, high quality flooring is a must. Wood, tile, laminate, ceramic tile, there are many choices. Make sure the flooring you choose complements the design and color scheme, and that it will hold up under heavy traffic and use.
Today, the kitchen is used more than the living or family room by many families. Make sure your Flower Mound custom home includes a kitchen that is highly functional and designed for your family's needs, as well as inviting to all who enter your home.
Thinking of having a custom home built in the area? Call Bud Bartley Custom Homes today. With more than 30 years in the industry, we are the builders you can count on for results that amaze.