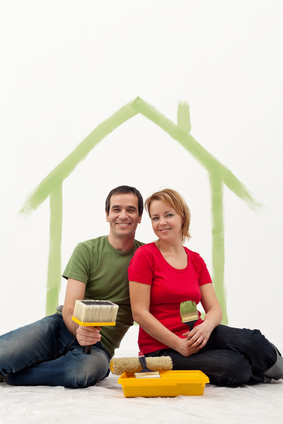 As reputable North Texas home builders, we know that for some homeowners there are certain things you would rather do yourself such as painting. Or, maybe it's not necessarily that you want to do it, but you're willing because you would rather spend that money on other aspects of your home. Regardless, there is a right way and a wrong way to go about painting, and you want your home to be as beautiful (and perfect) as possible.
Here are a few tips that will help ensure your painting efforts result in walls, ceilings, and trim that look as good as if a professional did the work:
Prep the room first. Don't try to save time and effort by "painting around" furnishings and other things in the room. Move everything possible out, take down light fixtures and switch/electrical plates, etc. Also be sure to invest in drop cloths designed for painting, as old sheets and other items are not paint proof! Any drops of paint will soak right through.
Do you really need primer? If you're going from a dark color to a substantially lighter color, yes. Prime the walls so that the darker color doesn't bleed through. Here's another tip: Mix a bit of the new color in with the primer. This will result in fewer coats needed to achieve the new, lighter shade.
Use painters' tape. Taping off areas you don't want painted helps make the job much easier, however tape comes with its own problems, and can leave you frustrated. If you've tried using painters' tape in the past and had leaks underneath or problems with tearing, try running the flat side of a putty knife along the side of the tape that sticks to "set" it. Once the paint has completely dried, run the utility knife along the edge to prevent rips, and slowly remove the tape watching for any potential catches.
Prepare the walls. When you want a professional looking job, it isn't enough to apply two coats of paint. Lightly sand the walls, and wash them if necessary to thoroughly remove any dust, dirt, or oils that may prevent the paint from sticking. Also use spackle in areas where there are cracks or holes.
You can make quick work of cleaning up if you keep a wet rag handy to immediately wipe up any spills or drips. Also be sure to have your roller or paint brush sufficiently wet with paint so you can avoid heavy coverage in one area and barely any coverage in another. Spotting is a problem many novice painters encounter.
Of course, the easiest thing to do is leave it all to a professional, but when you have reasons to do it yourself these tips will help you achieve professional-looking results!
In the market for a beautifully designed custom home in North Texas? At Bud Bartley Family of Builders, our Dallas custom home builders are master craftsmen, building homes that are distinctive and of outstanding quality for more than 30 years. Give us a call today!