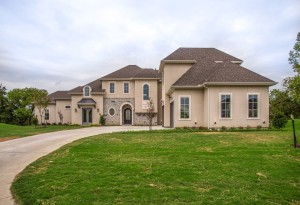 Families who build a custom home in Flower Mound often have very specific features in mind that lend to their unique needs and lifestyles. As trusted builders for decades, we know a home is more than a house – it's a place you fall in love with, that you look forward to coming home to at the end of the day. A dream home isn't an ordinary house, it's a home that fulfills all of your needs and reflects your unique style and personality. So, what are the factors you should consider when building your North Texas dream home?
Safety is first and foremost. Whether or not you have children, safety is critical. You want to feel comfortable and secure, whether the threat is a dangerous neighborhood or building a home near a floodplain. Your home is your shelter and protection, no matter what's going on in the world. Weather is a top concern, as well as neighborhood safety, so consider safety ahead of other priorities.
Building a dream home where you can envision your family happy and content over the long-term. Making decisions that impact the future of your children and family can be stressful, as you never know what the future holds. That said, you can build your dream home knowing it's located in a community that provides exceptional educational opportunities; that offers the entertainment and lifestyle you want; or the peace, quiet and solitude; a place where your family can grow and look forward to years of enjoyment and making new friends or social connections.
Make the most of your leisure time. Not everyone wants to lay around on the couch all day when they have time off! Perhaps you're passionate about reading good books, love to watch old movies, or are a gamer. Maybe you have a shoe or handbag fetish that requires lots of space (and therefore, a huge walk-in closet). Whether a game room or cozy reading nook, incorporate those things that empower your leisure time.
What are your design preferences? Since it is YOUR home being built to your preferences, you have the power to make it anything you want. Whether you like simple design and clean lines or go for the extravagant, your home should be a space where you feel the most relaxed, calm, and comfortable at the end of the day. Love natural light? Include lots of windows for an airy look and feel. The layout is critical, so don't worry about things you can change later, such as paint colors.
A home should make your career more fulfilling. Many people do a lot of work-related tasks from their homes today, so you may want to consider a home office if you envision yourself working from home either on occasion or full-time. Also, consider the job opportunities available in the area that are related to your field of work – and when possible, choose a vocation you truly enjoy and that gives you a sense of accomplishment.
When building a custom home in Flower Mound, it isn't just about the home itself – it's about your life and the enjoyment you get from it. Living a fulfilled life means living in a community that shares you interests and makes you feel alive! At Bud Bartley Family of Builders, our custom home builders deliver dreams and enhance lifestyles.