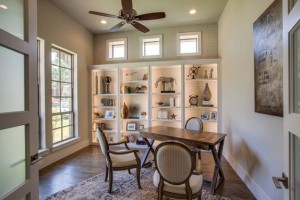 Even in the most spacious North Texas custom homes you'll often find a room that's relatively small when compared to the others. Perhaps it's a breakfast nook, dining room, or home office. Small rooms can be big on style – and it's easy to incorporate your design preferences while making the room look more spacious. Our Dallas custom home builders have a few tips.
Create the illusion of spaciousness
To start with, you can make the room look brighter and larger by using light paint colors. You don't have to use white, but keep the colors light. Windows let in natural light and make a room look more spacious, especially when paired with sheer curtains. If you don't have many (or any) windows in the room, a mirror can create a similar illusion.
Clear the clutter
The more "stuff" in a room, the more cluttered and small it appears. You don't want a lot of things (including furniture) taking up space, so consider built-ins for storage and only those pieces of furniture that are functional and useful. When you keep your focus on function and avoid an "overstuffed" look, the room will look larger and well designed.
How to avoid a room that looks boring?
When you're trying to make a small space look larger than it is, you can imagine how boring it may look considering light paint and sparse furnishings. How to spice it up? Choose a statement piece that becomes the focal point of the room. For instance, a single magnificent piece of art on the wall or a beautiful arrangement for the center of the table can make a huge impact in the dining room – and it doesn't require any floor space.
Of course you want to include style into the design of the room, and reflect your own personality. There are plenty of ways to achieve this considering all of the patterns, fabrics, and textures available today from upholstery to wallpaper or even paint. Be creative, and use your imagination to make a design statement that's truly your own!
At Bud Bartley Family of Builders we build custom homes in the Dallas area that are not only beautifully designed and luxurious, but incorporate the highest quality materials along with green components and elements for energy savings. Contact our exceptional team of custom home builders today.