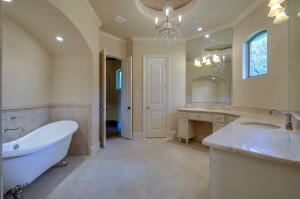 At Bud Bartley Custom Homes, we know a master bath is much more than a place where you take care of showering; it can be a peaceful, relaxing sanctuary. While bathrooms in custom built homes are meant to be utilitarian just as in every other home, they are also a place to let the stresses of the day melt away. Sometimes it's good to get away from the kids, and simply relax and unwind. So, what type of lighting fixtures should you consider when planning your custom built home in Flower Mound, Highland Village, or other prestigious communities in the Dallas area?
Mirror lighting. Although highly common, having lights above or around the mirrors in your bathroom may not be such a good idea. This type of lighting is not the best for shaving or applying makeup, as it can cast unflattering shadows. For the best lighting, choose lights that completely surround mirrors, or are mounted in a linear fashion, but not above the mirror. As far as light bulb watts go, 75 to 100 watts will cast flattering light and make it easy to see what you are doing, without creating shadows.
Light or dark bathroom? This really depends on your preference. Some like a well-lit bathroom where they can see everything, while others prefer a darker, more relaxing bath. Always keep in mind that dark colors absorb light, while light colors reflect it. This is true of wall colors, flooring, ceilings, even vanities and the accessories you choose. If you choose a dark master bath, consider fixtures that stand out from the mirror so that the light is reflected. In a brightly colored bathroom, diffused ceiling lights can be extremely effective. Also, light colored bathrooms require fewer or less intense light fixtures than darker bathrooms.
Decorative/ambient lighting. Lighting can truly 'set the mood' for your master bath. Highlight a wonderful tub using small up-lights, add lighting to the floor to flatter, or light up an alcove using warm lighting. Lighting can be not only functional, but provide interest and a unique decorative touch to your master bath.
When it comes to lighting in the master bath, the choices are all up to you. A custom built home is just as the term describes – custom! Whatever your needs and desires, Bud Bartley Custom Homes can fulfill the dreams you envision for your ideal home. Learn what sets our North Texas custom homes apart from the rest.