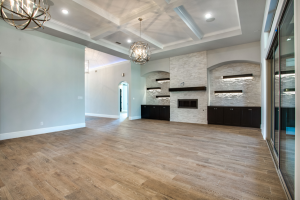 It's no secret that home prices have jumped substantially over the last six or seven years, even in the Dallas-Ft. Worth metro area. In fact, according to the National Association of Homebuilders, since 2009, the average price of a new home has risen about $100,000! There are still some ways you can save money and enjoy a beautiful, custom built home at the best possible price. Whether you're considering a new home that's already built but never lived in or building one from the ground up, ask potential builders a few questions.
Keep in mind that most model homes in developments include high-end finishes. What are your options, and what if you don't want all the fancy bells and whistles? How much do upgrades cost, and would it be more feasible from a financial standpoint to hire a contractor to perform upgrades? Weigh all of the options, but also consider that if the builder takes care of the upgrades you'll be able to include those costs in your loan amount, rather than having to pay the contractor in cash.
What warranties are provided? This is an important question, and one you should definitely ask. Warranties should be explicit regarding limitations for damages, and what is and is not covered. The "norm" in the residential construction industry is a 10-year structural warranty, and one-year workmanship warranty. For appliances, the HVAC system, water heater, laundry appliances, etc. you will need to make sure you get a manufacturer's warranty.
Can you check references? A reputable custom homebuilder will be happy to connect you with past clients so you can ask questions regarding quality, whether communicating with the builder was easy, if the project was completed in a timely manner, etc.
Get HOA rules and regulations from the builder. It's important to carefully review all of the documentation as some homeowners associations don't allow privacy fences, storage sheds, and have other restrictions. Take a close look at the rules and restrictions, and find out when you'll have to begin paying dues.
At Bud Bartley Family of Builders we know there's a lot to consider when building or buying a new construction home in Flower Mound, Argyle, or any upscale community in North Texas. As one of the most trusted custom home builders in the area, we invite you to ask any and all questions; after all, your home is the biggest investment you'll ever make! Contact us today.