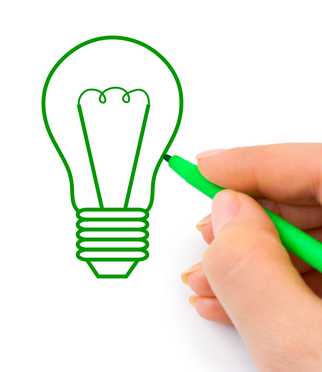 As trusted Dallas green home builders, the team at Bud Bartley has many tips for homeowners desiring to make their homes more energy efficient. There are dozens of things homeowners can do themselves to not only save money on energy costs, but improve the environment as well. According to CNN Money, "next to paying off high interest credit cards, making your home more energy efficient is the best investment you can make in today's economy."
Here are a few tips for making your home more energy efficient:
Lighting. You may be surprised to learn that 12% of your annual energy bill can be attributed to lighting. While energy efficient light bulbs may cost more initially, they use approximately 75% less energy and last about 6 times longer. An added bonus – they produce less heat, which means reduced home cooling costs and safer operation.
Here's a quick fact you may find interesting – If a single light bulb was replaced in every home in America with an Energy Star bulb, it would prevent the equivalent greenhouse gas emissions of approximately 800,000 cars!
Seal up the cracks. Weather stripping and a little caulk can go a long way toward energy savings. By sealing up spaces, cracks or gaps around windows and doors, you could save as much as 30% on heating and cooling costs.
Seal and insulate ducts. Your ductwork joints and vents can be a source of escape for conditioned air. Wrap insulation around ducts, and seal ductwork joints to prevent as much as 20% of your conditioned air escaping.
Consider radiant barriers to stop radiant heat transfer. According to a recent HUD study, a typical home loses about 45% of its energy through the attic. Radiant barriers are a good addition to the insulation in your attic, and reflects back the suns radiant heat in summer months, keeping your home cooler. In winter months, the heat inside your home is reflected back into your living spaces, keeping your family warmer and reducing energy costs.
Your home can be comfortable year-round while increasing energy efficiency and thus saving money on your utility bills.
At Bud Bartley Homes, we're the Dallas green home building professionals who work to help homeowners enjoy beautiful, comfortable homes affordably. Thinking of building a new green home in the Flower Mound or Highland Village communities? Let us put our more than 30 years of experience and skill to work for you.