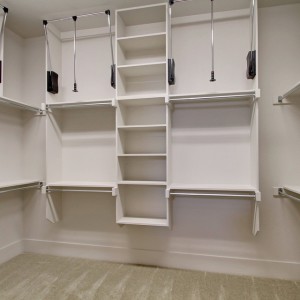 As a Flower Mound custom home builder, we know that many homeowners, regardless of how many closets they have, face storage issues. Maybe you don't have enough space, or the spaces you do have are disorganized or not taken advantage of. We know how frustrating it is; it seems the more space you have, the more "stuff" you have to store! Here are a few ways to make the most of your storage spaces.
Have lots of shoes? Many people have dozens of pairs of shoes, if not more. A painted wooden ladder makes a decorative rack for heels.
Shelves in a closet can be hard to reach, although they provide lots of storage for boxed or out-of-season items such as clothes. To make access easier, incorporate adjustable rails, or consider having adjustable shelves built when designing your custom home.
In the kitchen, pocket organizers are great for storing smaller items on the insides of cabinet doors.
Have storage issues in the bathroom for when guests are coming to stay for a few days? Rolled towels and other toiletries can be put in baskets, then hung on a towel rack for easy access.
Instead of leaving flat irons, curling irons, or blow dryers laying out on the vanity, store them underneath the vanity in a metal file box. The metal provides additional safety for these tools that are often hot and could present a fire hazard.
Have lots of mugs for coffee, cocoa, and hot tea? Hooks placed inside cabinets are the perfect place to hang mugs.
Wine crates can add to your kitchen decor, and are a great place to store coffee and tea.
In the living or family room, a unique wooden trunk offers lots of extra storage and can double as a foot rest or coffee table. Dual level tables are also an attractive addition to your decorating scheme, and provide storage compartments below and on top.
In the craft or game room, an old wooden soda crate makes a great caddy. Provide toy bins for your kids' toys, labeling each one with photos so the little ones can see which toys go into each bin. Bins can be placed in the closet when not in use, or slid under the bed.
A little creativity can go a long way when it comes to creating more storage space in your home! Have any ideas of your own? We'd love to hear them.
If you're considering a custom built Flower Mound or Highland Village home, rely on the skilled craftsmen at Bud Bartley Custom Homes for quality, upscale homes that exceed your expectations of what a luxury home should be.