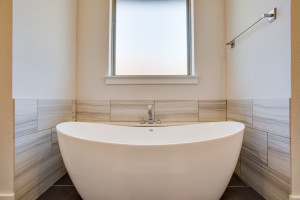 As custom home builders in Flower Mound for decades, we've noticed quite a few changes when it comes to home design over the years. One thing you may have noticed yourself, if you've toured any recently built or model custom homes, is the absence of the giant tub in the master bathroom. What's going on? Homeowners today prefer spacious custom showers and freestanding tubs, reminiscent of eras' past. Today's 'fancier' showers might include steam, rain bars, and other features.
This is a trend that likely won't go away soon, and here are some of the reasons homeowners prefer the change.
Giant tubs and Jacuzzi's limit space in the master bath. Imagine what else you could do with the space if the tub wasn't taking up so much square footage! Larger vanities, a closet for linens, that delightful large shower we mentioned above – the list goes on and on.
Baby boomers are really booming! Considering baby boomers are the largest segment of the population today, those boomers prefer safer options. Climbing into a tub (or even getting out) can be tough for some with back issues, arthritis or other problems. Instead, baby boomers prefer to shower – and regardless of how elaborate or large the shower is, many are designed for wheelchair access, should they need it as time rolls by.
Who really uses those huge tubs, anyway? Aside from the fact that it requires a lot of water to fill up those giant tubs, most people just don't have time to sit and indulge their senses for 30 minutes. Most of us have very busy lives, with little time for luxuries. Honestly – when was the last time you filled up the giant tub and relaxed?
Not to say giant tubs will never be a "thing" again, but today, it seems not many people use tubs, regardless of their size.
At Bud Bartley Family of Builders, our goal is to build custom homes in Flower Mound and other upscale communities in North Texas that are not only beautiful, but include the features homeowners want most. Count on us for unparalleled architectural design, quality workmanship, and all you dream of in a custom home.