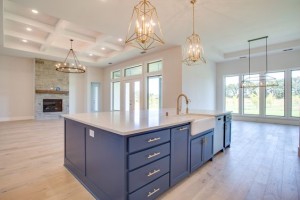 As one of the most trusted North Texas custom home builders in the Dallas area, we know many people choose to buy a luxury home that's already built – but does that really make it possible to live your own dream? With all of the home shows on television today and luxury homes splashed across magazine pages, you can just envision what your ideal home is. Buying a home that was someone else's dream is rarely completely satisfying, as you'll probably want features that an existing home doesn't have – or the home will have features you don't really want or need. We want you to live YOUR luxury lifestyle with a custom home that's truly your own!
What are some of the features most potential buyers don't think about when buying an existing luxury home?
Life transitions. A flexible design allows you to meet all the challenges in life, whether you're facing a future as "empty nesters" when the kids go to college or get married, or if the time comes when you need to take care of an aging or disabled parent. What about accommodating the grandkids that may come in a few years? These are all important considerations to think about when choosing to build or buy.
Flexible spaces. It's not uncommon for homeowners to convert a bedroom or other space into a home office, media room, entertainment or game room, gym, or even a guest suite for when family or friends come to visit. Can you easily convert the rooms in an existing home to include the features you may need in the years to come?
Staircase design in multi-level homes. Sure you can install an elevator if the need arises, but this is one element of a home's design that can really stand out and grab attention. Whether you include skylights or spectacular windows to highlight the space, elegant curves, intricate spindles and stylish balusters or magnificent lighting, a staircase can become the focal point of the room.
Know where your investment is going. When you decide to build a custom home in Flower Mound or any other community in North Texas, it's a big investment. What are you getting in return when you purchase an existing home? Does it have the features you'll need in the future, and is it perfect for the needs and lifestyle of your family? When you build a custom North Texas home you are in control of every element and detail so that ultimately your "home sweet home" reflects your family's unique personality, style preferences, and needs, without sacrificing the flexibility of converting spaces to those you may need in the future.
At Bud Bartley Family of Builders, our custom home builders are dedicated to helping bring your dreams to life. It's about your family and life in the present, and in the years and decades to come. Never settle for someone else's dreams!