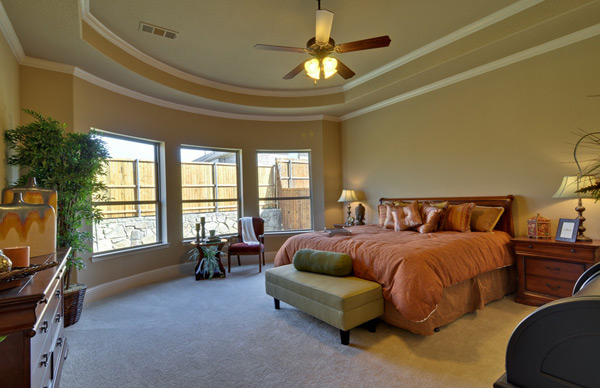 When you think about it, most of us spend about one third of our lives sleeping – that's an incredible amount of time, and shouldn't you enjoy luxurious surroundings considering how much time you spend in the bedroom? As trusted Flower Mound custom home builders, we believe a master bedroom should be inviting, comfortable, and so much more than simply a space for a bed.
Some of the luxurious features that make your master bedroom a room you'll want to spend more time in include built-in window seats, fireplaces, and stunning views. What about a private deck where you can enjoy warm North Texas summer nights by simply stepping out of the bedroom into your own private oasis?
In building custom Flower Mound homes, we take into consideration that your home is where you live your life, not simply where you come to sleep at the end of a busy day. Imagine a master bedroom complete with an elegant, crackling fireplace, ideal for those chilly nights you want to snuggle up and enjoy a movie or read a good book. Add a cozy sitting area close to the fireplace, and you've got the perfect corner for relaxing and unwinding before you hit the sack!
Built-in window seats not only bring the beautiful outdoors inside your bedroom, they're a great place to sit and soak up the sun on a beautiful day. In fact, they even make the ugliest of rainy days better; just snuggle up in a throw and let the sound of the rain tapping the windows lull you off to sleep.
A huge picture window will make your master bedroom appear even bigger than it actually is. When placed where you can look out on a gorgeous view, you'll enjoy waking in the mornings and thinking to yourself how lucky you are to enjoy such stunning surroundings.
A master bedroom should be more than a place where you sleep and store your clothes! If you're ready for an incredibly beautiful home that offers an equally incredible master bedroom, trust the Flower Mound custom homebuilders at Bud Bartley Homes. We've been bringing families' dreams to life for more than three decades – we can do the same for you!