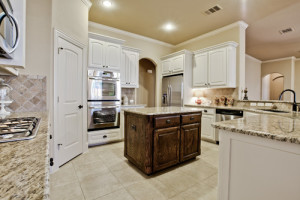 At one time, home theaters were all the rage; now, not so much. As trusted Dallas custom homes builders, we've seen many changes over the years in terms of what homeowners want. While some still prefer formal living rooms and touches that are a bit frivolous or grandeur, most prefer functional spaces that are useable now, and will be usable in the future whether for every day life or entertaining.
Not too many years ago, homeowners in the market for prestigious, upscale homes trended toward grand double-staircase foyers, foyers that really made an impact upon entrance. Today, many are choosing to locate stairways away from the front entry. Instead, choosing to focus on spaces including entertaining and living areas. Spaces are multi-functional and open, offering a casual atmosphere and decor that's more suited to serve as hubs for entertaining guests.
In terms of design, we've noticed that simplicity is key as clean, simple lines begin to dominate upscale homes in Flower Mound, Highland Village, and other prestigious suburbs of Dallas. Homeowners seem to be "lightening up," including more natural materials such as wood floors that are sealed instead of stained, raw beams on the ceilings, and low maintenance materials such as quartz in kitchens rather than materials that require more upkeep, such as marble.
Not every aspect of a custom home has gone the way of simplicity. For instance, while many homeowners are choosing single staircases over double, stair railings are more creative than ever, often crafted of materials such as iron and glass, or with intricate railing designs.
Low maintenance, easy care, simplicity, multi-functional – these are a few of the things homeowners are looking for when building custom homes in the Dallas area today.
Thinking of building your own dream home? Trust Bud Bartley Custom Homes, a well-respected name in custom home building for more than 30 years.