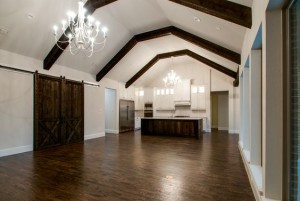 Whether you're thinking about building a custom home in Flower Mound, Argyle, Highland Village, or any upscale community in North Texas, there's definitely a lot to consider. Are you thoroughly prepared, and what should you know? We have a few tips to help make the entire process less stressful from start to finish.
First and foremost, be sure of your budget before the project begins. When you're building a custom home, the possibilities in regards to upgrades are almost never-ending. Add an upgrade in the kitchen, one in the bath, and soon you'll find you've added thousands of dollars to the price of your custom home. Flexibility is the name of the game when it comes to budget; rather than a concrete number, set a range that covers what you can afford.
Ask every question that comes to mind. Clear communication is key when working with a custom home builder, so be sure to ask plenty of questions, even if you need to make a list. You want to make certain the home lives up to your expectations! A trusted, reputable Dallas-area custom home builder will keep you in the know during every step along the way, but be sure to communicate and ask questions should you ever become concerned about certain things, such as whether you've included ample storage space or perhaps worry that the cabinets and countertops aren't really compatible in terms of color/style or design.
Know that when it comes to finances, an upscale custom home is a bit different from an existing home. While new home construction loans aren't as easy to obtain as they were in the past because they're considered a bit more of a risk, good credit and the ability to put 20% down on your home will make it possible to secure a loan in most cases. Some who are contemplating building a custom home in Flower Mound or other affluent neighborhoods have a significant amount of cash in the bank, however most people obtain a loan. With a new home, it's a little more complicated considering temporary construction loans that may or may not convert to permanent mortgages, or the possibility that you may be required to pay two sets of closing costs depending on whether the loan converts.
Finally, be sure to choose your contractor carefully. It isn't enough to choose a building contractor or design-build firm from the Yellow Pages these days! Search for reviews online, research the company's background, see if you can learn how long the company has been in business, ask around. When it comes to what is, for most people, the biggest investment of their lives, being certain you have a capable, reputable contractor is key.
At Bud Barley Family of Builders, our team of North Texas custom home builders are dedicated to exceeding your expectations in terms of quality, materials, cost, and more.