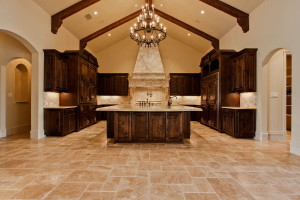 As Dallas custom green homebuilders, we know that many people who decide to have a home built to their own specifications do so believing they will live in their home forever. While this is often the case, many families decide at some point in the future to sell. This is why it is critical to think in terms of increasing the value of your home, so that if you ever do decide to sell you can enjoy considerable profit on your home.
What features are important when it comes to increasing your home's value?
When it comes to the kitchen, spare no expense. The kitchen is often the center of the household today; it's where meals are prepared and enjoyed, homework is done, and guests are entertained. Think of the holidays; where do the women usually congregate? In the kitchen. Yours should be well-designed and include all of the features home buyers are looking for today.
Quality craftsmanship is critical. Sometimes it's the "little things" that really attract people's attention. From durable, gleaming hardwood doors to solid wood banisters and stone-polished basins, the hallmarks of quality should be evident throughout the home's design. When a custom home is well-designed using top-quality materials and workmanship, it shows.
The toilet is more than just functional. Sure, everyone needs to shower, shave, and take care of business privately – but a bathroom isn't just functional, it's a room that nearly every visitor who enters your home will visit. High ceilings create volume, but floor space is important, too. You want your family members and guests to feel comfortable and enjoy privacy, but the room should be visually appealing as well. Next to the kitchen, bathrooms are what buyers look at most!
Natural lighting. Not many people like a dark, dreary home; natural light adds a fresh feel and natural glow to a room. Although you want to make sure you choose windows that are energy efficient, think lots of windows and perhaps a skylight to brighten up your spaces and bring the elements of nature inside.
Another good investment is in beautiful landscaping, as the exterior of a home is the first thing people notice. A perfectly manicured lawn, well-placed trees, shrubs, flower beds – all of these things increase curb appeal and make your home the envy of the neighborhood. Buyers notice these things!
If you're thinking of building a custom home in Flower Mound or other outlying Dallas suburbs, give Bud Bartley Custom Homes a call today. Building quality, upscale custom green homes is our passion, and what we do best. Never skimp on quality, and trust builders who are dedicated to excellence.