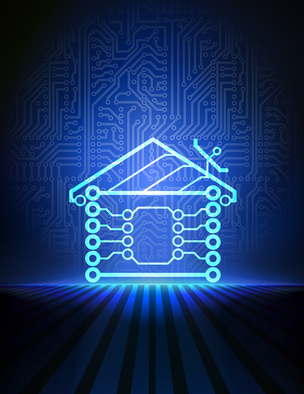 Today, building a home is drastically different from what it used to be decades ago. Considering the rapid advancements in technology, it's important that your North Texas custom homebuilder is up-to-date on the latest trends and technology. As trusted Flower Mound real estate builders, we understand what homeowners want in a custom home today, outside of quality, elegant design and appealing architectural features. How do we incorporate technology into your new home?
We help you save energy. Today, more people are looking for eco-friendly solutions in a home. Such features as programmable thermostats and appliances that are Energy Star compliant are just a few of the ways we help you enjoy a home that is comfortable and functional, as well as energy efficient. In essence, our homes help you reduce your carbon footprint and do your part to help the environment.
Maintaining modern devices. Smartphones, tablets, iPads, iPhones, laptops and other media devices are growing in popularity at a rapid pace. When you have more mobile devices and media equipment than you do furnishings, how do you maintain them? We know that in order to keep all of your media devices functioning, it's a must to have sufficient electrical outlet access. Where internet connections are located, the functionality of a media room, whether the room has the power to support all of the electronics, media equipment and other things that enrich your life – these things are essential in the modern world we live in today.
Quality throughout. While focusing on green practices is important for many who desire a Flower Mound custom home, quality is still just as important. Why would you build a luxury home only to have appliances that look as though they belong in the average home? You wouldn't. The appliances we use are of unsurpassed quality and designed for energy efficiency, but as beautiful and luxurious as the rest of your home.
If you're giving some thought to building a custom home in the North Texas area, count on the Flower Mound real estate builders at Bud Bartley Family of Builders to focus on much more than the structure of your home! We consider all of the small things as well, including technology.