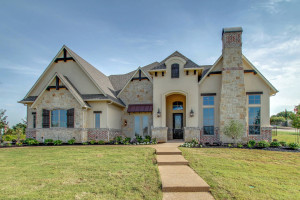 Lots of space, face value, and clean, contemporary interior fixtures are three of the hottest trends today in luxury home building in the many prestigious communities surrounding Dallas, including Flower Mound and Highland Village. More and more, Americans prefer to purchase a newly-built custom home over buying an existing home that has previously been lived in. In fact, more than 40% would rather buy a new home from a trusted custom home builder!
The percentage of home buyers who want to buy a home from a custom home builder that is already built and ready to move in and those who desire to build a custom home on property they already own is fairly even. Whether you're looking to buy a custom-designed home in North Texas or you would rather have a custom home built on your own lot, you're definitely in good company.
We mentioned at the beginning of this article that the "hottest" trends today in luxury custom homes are lots of space, face value, and clean, contemporary interior fixtures. We'll expand on these a bit below:
Lots of space
Roomy, open floor plans of 4,000 square feet or more are in demand, according to D Magazine. Of course, with plenty of room for the family comes the desire for increased energy-efficiency. Home buyers are looking for Energy Star-rated appliances and triple pane insulating glass to help keep utility costs down in these spacious homes.
Speaking of triple pane insulating glass – face value
What do we mean by face value? The exterior of new custom built homes is becoming more important than ever, with buyers desiring lots of windows and clean, modern exteriors. However, traditional homes are still very much in demand, so if French or Mediterranean is more your style, no worries!
Interior fixtures in the kitchen and bath offer a clean, contemporary look
That's the wonderful thing about building a custom home in Dallas – you have control over the interior design. More and more, those having a custom home built are choosing brass fixtures and hardware in the bath and kitchen, in addition to flooring and countertops crafted of natural stone.
Whether you're looking to build a custom home on your own lot, or buy a new custom built home that is ready to move in, Bud Bartley Custom Homes is a premier builder of luxury custom homes in the Dallas area, bringing more than 30 years of experience and excellence to home buyers who desire an enhanced living experience.