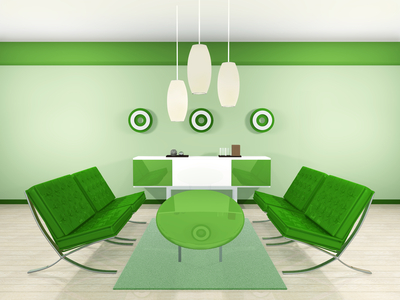 As reputable Dallas green home builders, we know that for most families, the living room is one of the most used rooms in the home. Whether you call it the family room or great room, your family actually "lives" in this room – and it may be where you entertain friends as well. Is your living room an energy efficient space that's also healthy for your family?
Here are a few redecorating tips that will make your living room not only more beautiful, but eco-friendly as well:
Environmentally friendly paint. Today, there are many paint products that are considered low- or no-VOC (volatile organic compounds). These paints contain few or no toxic ingredients, meaning they will not give off potentially harmful gases for years like traditional interior paints have. They're mostly water based, easy to clean up and have little or no odor.
Windows, natural light and air movement. Windows (we recommend vinyl) are great for letting natural light in and warming your home during winter months. During warmer weather, open them up, turn on the ceiling fan and let the natural air circulate through your home. Stale indoor air can also exit through the windows. Your heat/air system won't run as often when you let your windows do some of the work. More natural light means you don't have to turn on artificial light during the day as well, cutting down on energy usage.
Fabrics and upholstery that are earth-friendly. Carpeting, rugs, even curtains and furniture upholstery can give off fumes and pollution. Hardwood floors are a smart, healthy alternative to carpeting, which is an allergen magnet. While you think of cotton as a "natural" fabric, it requires a ton of water – and farmers use incredible amounts of pesticides in growing it. Today, many fabric designers offer options that are recyclable, organic, or natural. Make sure the fabrics you choose for windows and furnishings contain non-toxic dyes as well.
Improve your indoor air quality, your family's health, and the environment all while enjoying elegant, comfortable living. Consider 'green' options when redecorating your living room, and feel good knowing you're doing your part for a better environment.
Thinking of building a new home in the Flower Mound or surrounding communities? Trust Bud Bartley Homes, we're the Dallas green home builders who have been building elegant, upscale homes for more than 30 years.