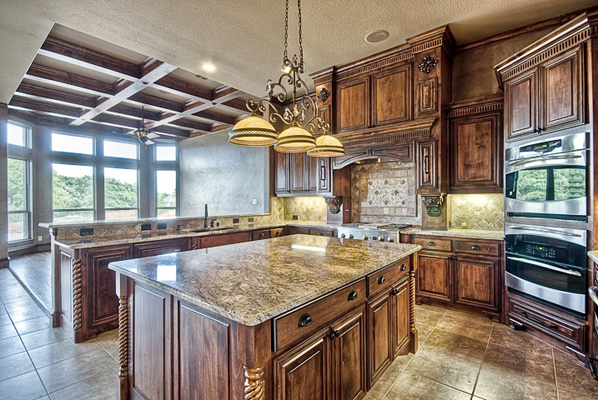 If you're a woman, you may be contemplating the green features integrated into your kitchen design should you decide on a green Flower Mound home. Most people are not familiar with the elements that make a home more environmentally friendly unless they have been through the building process before. Considering the constant rise in energy costs today, it's really no surprise that more and more homeowners are deciding to "go green". At Bud Bartley Homes, we want future homeowners to understand the elements that often go into designing an environmentally friendly kitchen.
Because the kitchen/dining room area is often the "hub" of the home, it must be comfortable, inviting and appealing. Many people who simply don't know better assume that green somehow translates to boring or unattractive. Nothing could be further from the truth!
Flooring materials – In green home building, natural flooring made using eco-friendly materials are commonly used. These materials may include bamboo, cork and hardwoods.
Lighting – LED lighting under cabinets illuminates the countertop area where you work, but uses only minimal energy. An added bonus? When your kitchen is already hot from cooking, this type of lighting doesn't produce the heat found with conventional bulbs.
Fixtures that are low-flow – Saving water is another environmentally friendly step – and one that saves you money. Low-flow fixtures are available for faucets, shower heads, toilets and more.
EnergyStar rated appliances – Everyone has seen appliances that display the EnergyStar stickers, and most people know they help save energy. From microwaves and ranges to dishwashers and refrigerators, using EnergyStar appliances in your kitchen will add style while simultaneously saving you money.
Countertops – Terrazzo (recycled glass), wood, and paper composite surfaces are just a few of the "green" options for countertops today. Most countertops made of recyclable materials are heat resistant, and stand up to stains. While you want eco-friendly and durable, you also demand beautiful, elegant countertops that bring your kitchen together. No problem!
When building a green home in the Flower Mound/Dallas areas, a "green" kitchen is just the beginning! Count on the trusted team at Bud Bartley Homes when you're in the market for an eco-friendly but exquisitely beautiful home you will be glad to call your own for decades.