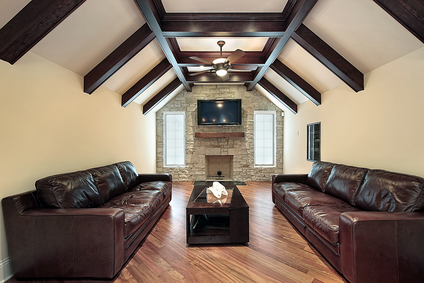 Those who are thinking of building a custom home in Flower Mound or other outlying suburbs of Dallas will enjoy learning about some of the most popular trends today, designed to bring nature inside. Lots of windows bring in plenty of sunlight, and wood, rock, and other elements of nature are in abundance. One of the biggest trends in custom home design in Texas today is exposed ceiling beams, which add a splash of Old World charm to new homes, regardless of whether you are considering a contemporary or modern home, country style, ranch, Mediterranean, Spanish, or Tudor.
Why are exposed ceiling beams so popular today?
Because heavy wood elements draw the eyes up, ceiling beams can emphasize other features such as vaulted ceilings.
Nothing is more dramatic than strong touches of wood, whether you are building a home that is traditional or contemporary in design. With exposed beams, you get a feeling that a room is much larger and more open than it actually is. And, what is really more beautiful than wood?
While a typical ceiling is preferred in most cases for bedrooms and baths, exposed ceiling beams in a kitchen or living room give it that "wow" factor. For homeowners, exposed beams can be included to suit your own personal preferences, whether you enjoy simple, straight lines or those that are more intricate and detailed.
Exposed beams are available in a wide array of colors to match every decor, whether you prefer a natural finish with clear coat, stain, or natural. From yellow-gold tones to rich mahogany or beautiful oak or pine shades, the choices are highly versatile giving you the ability to choose what is exactly right for your custom Flower Mound home.
Imagine a kitchen with both exposed ceiling beams and a skylight, or exposed beams in an arch, doorway, or window. The possibilities are endless!
Have you considered exposed beams for your future home? At Bud Bartley Custom Homes, we love building unique, one-of-a-kind Flower Mound custom homes for the most discriminating clients. No matter how simple or dramatic your style preferences, trust our skilled builders to deliver results beyond your expectations.