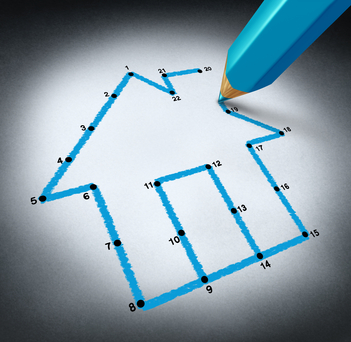 When you are looking to build a custom home in one of the prestigious communities in the Dallas area such as Flower Mound or Highland Village, it's important to keep in mind that your builder cannot pull ideas for your home out of thin air – you should know what you want in your dream home. At Bud Bartley Custom Homes, we have a few tips to help make the custom home building process easier and less stressful, for both you and the builder.
First of all, locate a reputable builder in the area
Before you start making any plans, research some of the builders in the North Texas area. Once you've found two or three you're impressed with, ask to see their portfolios so that you can actually visualize the quality of work they do. Find out about the builder's reputation. You can usually do that easily online. The point is, you want a custom home builder who you can trust, and who does exceptional work.
Determine what you just 'have to have' in a home
Is it a playroom for your children, a home office, or features that enhance energy efficiency and lower your carbon footprint? Perhaps you like an open floor plan where the family room, kitchen, and dining room flow freely from one to the next, or would love a media or entertainment room for gaming, playing pool, listening to music, or watching television. Whatever your 'must haves' are, be sure to communicate this to the builder.
Consider future home decor
Most people already have furnishings they intend to move into their new home, so you want paint colors, flooring, and other components of the decor to blend in or complement your current furniture and accents. However, if you intend to do away with the old and bring in all new interior design, keep this in mind when choosing colors, flooring, even cabinets.
Having a beautiful, distinctive custom home built in the Dallas area can be fun and exciting if you have a plan and approach it the right way. Most important of all is choosing a builder who can make your vision come to life! As a trusted builder of Flower Mound custom homes, you can count on Bud Bartley Custom Homes to be 'on the same page' you are on, so that the results are spectacular.